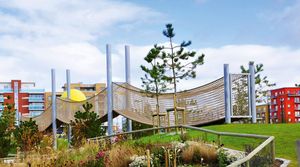 July 27, 2022
40 Metre Tunnel Spans the City's New Park
With a view over the harbour
With a population of over 300,000, Malmö is Sweden's third largest city after Stockholm and Gothenburg and the capital of the southern Swedish province of Skåne.
An exciting new feature in the city is the new district of Västra Hamnen which is still under development. This district reflects the marked change from Malmö being an industrial city – characterised since the Middle Ages by its the harbour and shipbuilding – to becoming a modern centre of knowledge. Built on the site of the old harbour, the area is gradually being turned into a sustainable and ecological residential area.
Spanning Västra Hamnen's newly created park is a 40-metre-long HUCK net tunnel designed in collaboration with Scancord. The 2-metre-high net tunnel is suspended from huge steel frames. On the wide timber walkway children and adults alike can get that exciting feeling of height while being assured of maximum safety.
In collaboration with Scancord, Hörby