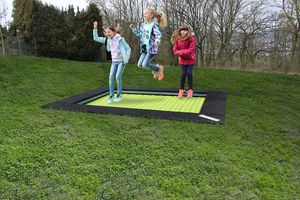 July 27, 2022
Trampolines are always in fashion
Hopping and skipping around the competition
Whether round or oval, square or triangular – Hally Gally trampolines from HUCK have been at home on numerous playgrounds around the world for 25 years.
Their robust construction means Hally-Gally trampolines from HUCK are able to withstand practically every strain placed on them. The essential thing with trampolines – regardless whether the model is 2000, 2012, 2014 or Circus – is the sturdy sheet steel frame that is reinforced with additional brackets and galvanised to make it extra strong. Even the wind and weather or being inserted into damp soil do not have a detrimental impact on their quality.
The jumping mats consist of environmentally-friendly, extra soft recycled rubber slats with fabric inserts. However it is also possible to have closed rubber mats as the jumping surface. Depending on their size, up to 174 hot-dip galvanised steel springs ensure safe suspension of the mats on the trampoline frame.
All our trampolines are completely maintenance free, but if you would like to gain access underneath the jumping surface to remove leaves or rubbish, you can simply open out the jumping frame – as with model 2000 – or unhook the rubber mat – models 2012 and 2014.