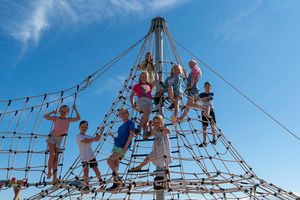 March 3, 2023
Outdoor Play Equipment for Schools In The UK
For children, schools should be a space where they can learn, grow and explore in a safe, stimulating environment, particularly for preschool and primary school age. Incorporating outdoor play equipment into your school's playground is a great way to encourage physical activity and help foster better learning.
Creating inviting outdoor learning areas with outdoor play equipment that encourages physical activity and social interaction can be challenging if you don't know how to go about the process, but it is especially rewarding once you have the right playground equipment in place.
Having access to quality outdoor play equipment for schools is essential in this endeavour.
At Huck Play, we know that when it comes to providing outdoor play equipment for schools, it's not always as clear-cut as you might like it to be. There are typically grants and funding to secure, budgets to stick to, safety and accessibility standards to comply with, and a desire to create stimulating but safe learning environments.
That's why we provide specialist advice on playground equipment for schools in order to help you create the ideal outdoor play areas that are both fun and safe for your pupils.
We offer a wide selection of playground equipment specifically designed for schools in the UK, providing everything from large-scale items like playground structures and interactive play zones to small pieces such as rope swings and slides.
Not only will we design and install your school playground equipment, but we can also provide ongoing maintenance and repairs to ensure your play areas remain in top condition.
Our team of playground experts are on hand to give you any advice, guidance or support you need to make the most of your outdoor learning spaces.
Get in touch with us today to find out more about our outdoor play equipment for schools and see how we can help you create an amazing outdoor learning environment.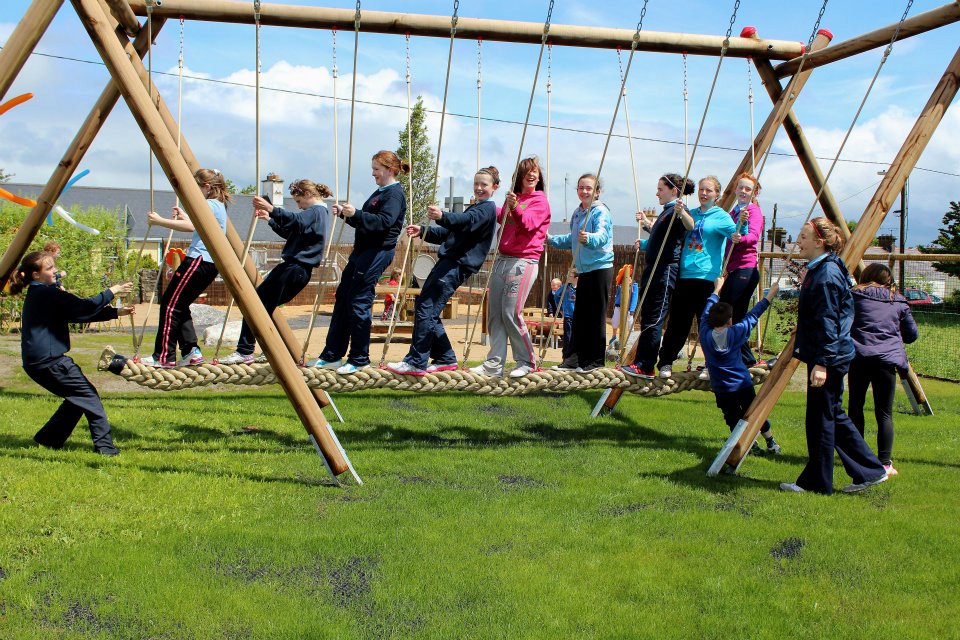 Most Popular School Playground Pieces
At Huck Play, we love coming up with innovative and new school playground equipment designs that aim to inspire and encourage children to learn and play outdoors.
We have tons of different structures and pieces to fit school playgrounds of any size and shape – we know that no two schools are the same! However, there are some particular playground pieces that prove to be incredibly popular with school children and teachers alike.
One piece of school playground equipment that we recommend to most schools we work with is the 'Tarantula'. The playground structure showcases a fun and innovative design that resembles – you guessed it! – a tarantula. We believe that designing playground equipment in fun ways like this encourages children to engage with the outdoors, stimulating their imaginations and spurring them on to explore.
The centre of the outdoor play equipment piece features our infamous Bird's Nest® swing, suspended by ropes that cause it to rock back and forth. Imaginative play can take off from here, as the structure combines elements of climbing, seesawing, and playfully promoting children's motor skills.
Another piece of school play equipment that proves popular and provides lots of fun is the "Piccolo" Trampoline'. Trampolines are always a hit with young ones, and we have a whole range of trampolines that come in different sizes and shapes.
The 'Climbing Bench' is another popular playground piece for school playgrounds. Featuring a slide and a climbing net box, the Climbing Bench is great for younger children who are just starting to explore their physical abilities.
These are just some of the different outdoor play equipment pieces that we have available – there is truly something for everyone!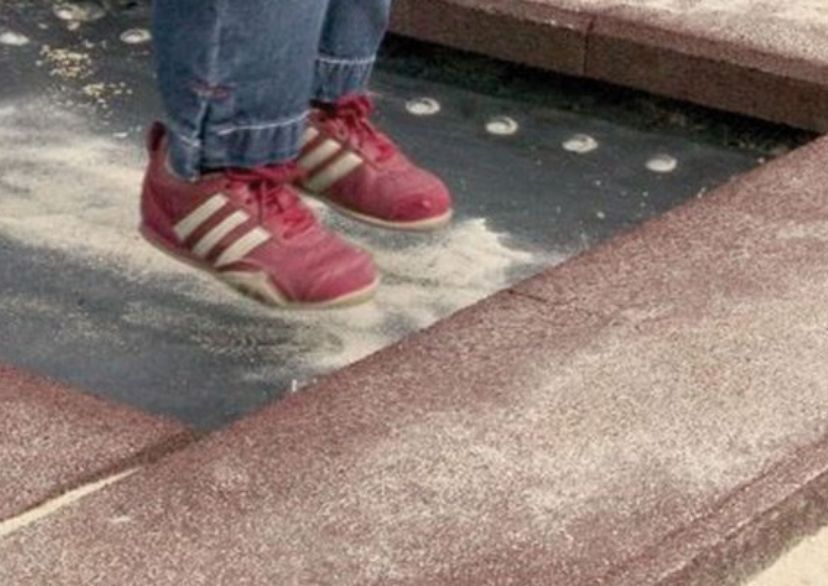 Play Equipment for Primary Schools
Primary schools are great places for children to learn and grow, so it's always important to ensure that their playtimes are as enjoyable and stimulating as possible.
Giving students access to outdoor play areas filled with quality playground equipment is essential, particularly if these children don't have access to a garden or play area at home.
At Huck Play, we offer a range of playground equipment that fits perfectly in primary schools in the UK. These are just some of our recommendations:
Mini Birds Nest Tree
Easy Climb 4
Diablo

The 'Mini Bird's Nest Tree' is suitable for children over the age of 2 years old, so it's ideal for primary school environments. The structure features four of our Birds Nest® swings, all suspended by steel posts. This playground equipment is great for encouraging interaction and plays together, as the structure can fit up to 18 children at once.
The 'Easy-Climb 4' is a small net climbing structure that provides challenges without making it too difficult - perfect for primary school playgrounds. And you can take your pick from a range of different rope colours to match the colours of your school logo or uniform.
If you're looking for a playground piece that will literally take physical play to new heights, 'Diablo' is a great option. The climbing structure features a large tower with a central post, surrounded by platforms and net sides. This piece is perfect for developing children's motor skills as they climb around the structure.
If you're in need of quality and safe playground equipment for your primary school, get in touch with Huck Play today. We can offer you tailored solutions to fit the needs of your students - all sourced from one of the leading manufacturers in the industry.
Contact us today to find out more!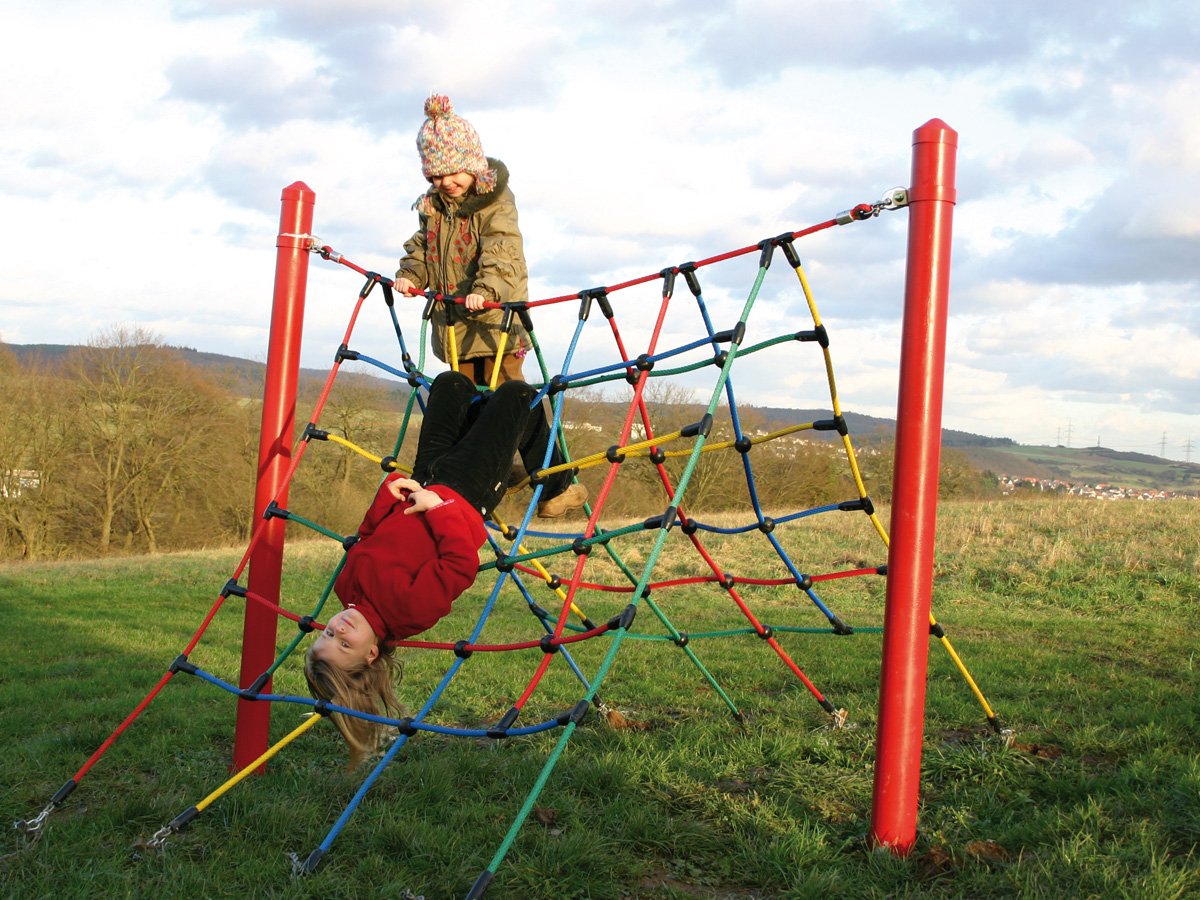 Play Equipment for Secondary Schools
Secondary schools should also have access to quality outdoor play equipment, as this is still a time of learning and development for students.
At Huck Play, we have a range of playground equipment that's suitable for secondary school playgrounds.
Here are just some of our top picks:
Pendulum Seat Combination
Slackmaster Combination 2
Dragon Swinger

Swings are great for all ages, and they encourage interaction and teamwork between students. The 'Pendulum Seat Combination' is the perfect example of this, with four pendulum seat swings hanging around a central post.
If you want to really encourage interaction and collaboration between students, the 'Slackmaster Combination 2' is a great option. It is laid out in a square shape and features different areas for climbing, swinging and balancing – all of which are great for developing communication skills between students.
And for something that is just plain old fun, the 'Dragon Swinger' is a favourite. This playground equipment features a large braided sitting/swinging rope suspended from a wooden structure. For a new playground, this piece is sure to be popular amongst the students!
If you like the look of any of these pieces, get in touch with Huck Play today. Or, perhaps you'd like to discuss other options – either way, we're here to help. Just give us a call or send us an email, and we can get started on working towards your perfect outdoor play space.
School Playground Equipment Design & Installation
When you choose Huck Play, you're not only getting access to the best quality playground equipment, but you're also getting expert design and installation services alongside them.
Our team of professional playground designers and installers have years of experience in the industry, so you can trust that they know what they're doing.
We take into account the existing space and safety of your playground, as well as the specific needs of your students. Not every playground is the same, and we understand that. That's why we can create a custom playground plan for your school that caters to everyone.
Our playground design team do a fantastic job of designing individual outdoor play spaces for primary and secondary schools. We look to organise the playground in a way that's both fun and educational – while ensuring the safety of your students at all times.
Once your playground design has been drawn up and your playground structures have been manufactured, our team of installers will be there to make sure everything is put together correctly and safely. We guarantee a top-quality installation that meets all of the safety requirements.
We're particularly proud of this project we carried out for the West Bay Play Area in Dorset. It's the perfect example of how the team of Huck Play works together with our clients to create something truly unique and special.
School playground development is a great investment – and with Huck Play, you can trust that your project is in safe hands.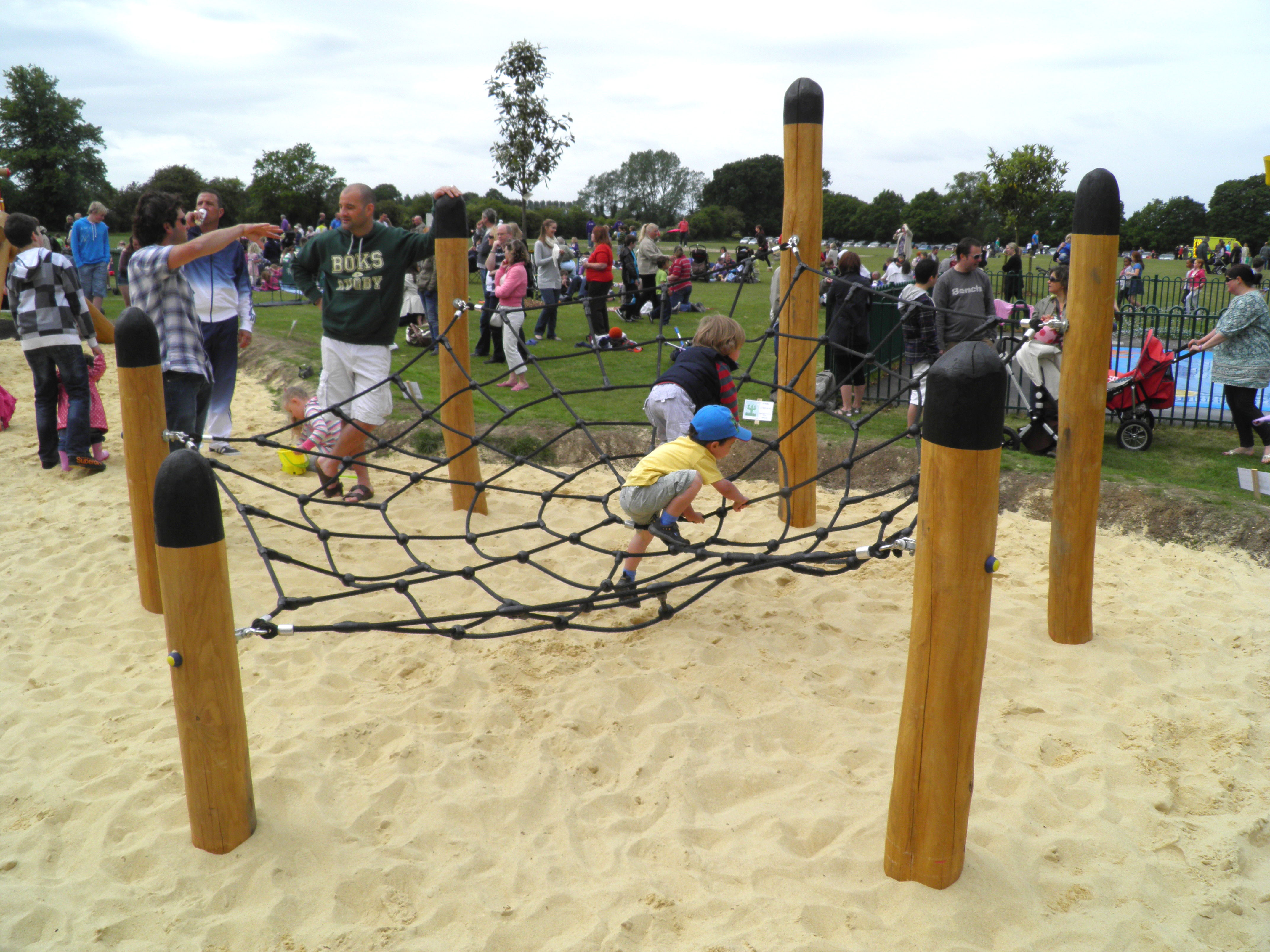 Grants & Funding For School Playground Equipment
We also understand that playground equipment can be expensive, which is why we always urge our clients to look into grants and funding available for their projects.
We do our best to work with our clients within their budgets, and there are plenty of grants and funding options out there that can be explored.
We've put together a list of some of the grants and funding sources available in the UK that you could take advantage of. And if you need any further advice and help with this, feel free to get in touch with us and we can provide support.
Big Lottery Awards for All: A part of the Big Lottery Fund grant scheme for all local communities (schemes vary across England, Scotland, Wales and Northern Ireland).

ASDA Foundation: available for schools, charities and local community groups.

Tesco Bags of Help: This is a part of Tesco's local community grant scheme that uses the money raised by selling carried bags to fund thousands of local projects across the UK.

Ernest Cook Trust: Aims to help children learn about the environment they live in and more about the benefits of the countryside.

Sport Wales: Sport Wales aims to increase the number of people taking part in sports and physical activity. (Available to sports clubs or associations, youth clubs and community groups).

Grants4schools: A funding information service available to the UK Education sector.

Lord's Taverners: Provides grants to SEN schools enabling them to purchase outdoor playground and gym equipment that caters for their needs.

One Family Foundation: Helps fund community projects that matter to their customers.

Learning Through Landscapes: A national school grounds charity that believes schools play a vital role in children's learning and development.
You will find that some grant and funding schemes will be more applicable to your project than others, and getting directly in touch with the individual organisations will allow you to learn more about the specifics of their grant schemes and whether you would be eligible or not.
Local authorities, educational trusts and charities may also provide funding for your playground project – so be sure to explore all available options.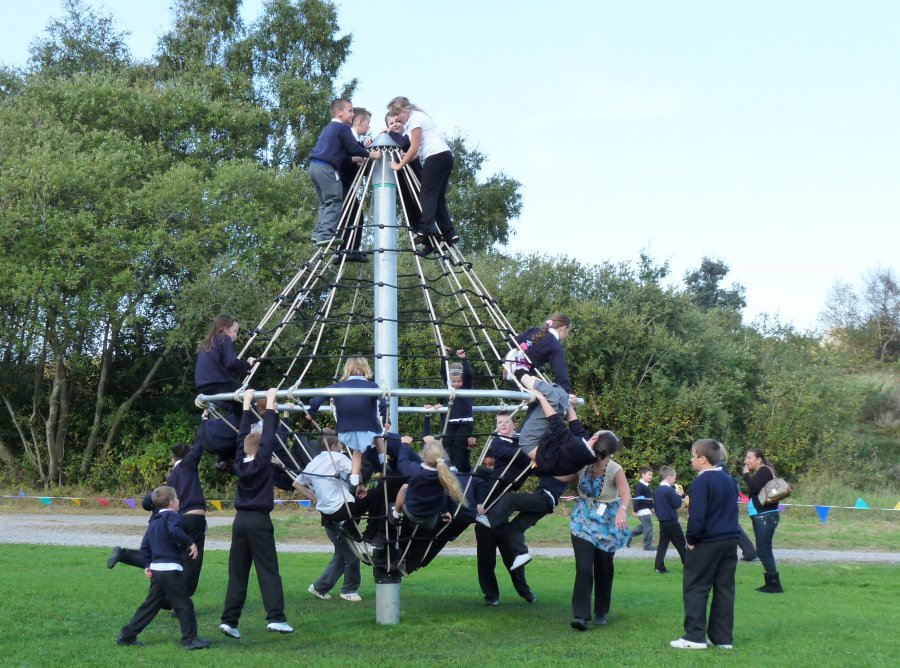 Ordering Playground Equipment From Huck Play
We strive to make the process of purchasing your fun and educational play equipment as smooth and easy as possible. Creating and installing outdoor play equipment for your schools should be an exciting and enjoyable process that your school children love.
We will work with you every step of the way to ensure that your project is a success – from the first conversation to the very last installation.
Our super simple process is as follows:
Find your perfect fit: We have a huge selection of playground equipment available to choose from – so you can find the perfect pieces for your school's needs.

Get in touch: Once you've found the ideal pieces, add them to your basket on our Huck Play website, and your inquiry will be sent through to our playground team. Or, you can give us a call if you're looking for more advice.

Finance and Quotes: We'll work with you to create a quote and offer advice on any grants and funding that's available.

Design: We will then help you design your playground, taking into account any special requirements and making sure that it's perfectly suited to your needs.

Installation: We will then take care of the installation, making sure that it's done properly and safely.
We are always on hand to answer any questions you may have and provide expert advice on choosing the right playground equipment. So don't hesitate to get in touch!
FAQs
What do you put in a school playground?

Having outdoor play equipment for schools is important for both physical and mental development in children. A school playground could include a range of play equipment, from slides to swings, climbing frames to rope pyramids.
What is the most popular playground equipment?

One of our most popular pieces of playground equipment that we recommend for schools is the 'Tarantula'. This fun and interactive spider-like rope structure is great for physical and imaginative play.
Do you offer installation and maintenance services?

Huck Play offers a complete end-to-end service, from design to installation and maintenance. We aim to make the process of purchasing playground equipment as easy and stress-free as possible..