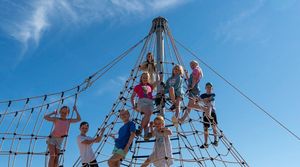 May 16, 2023
Our Incredible Campsite Playground Project at Trevalgan Touring Park
With summer fast approaching, now is the perfect time to start thinking about getting your campsite ready for the floods of families and holidaymakers that'll be arriving. And we're here to show you exactly why you should be adding a playground to your site!
We've worked on some seriously incredible camping and caravanning sites over the years, and we can vouch for the fact that adding a playground is one of the best investments you can make.
Kids have so much energy (especially when they're on holiday!), and having an area specifically designed to let them play safely while their parents relax nearby is always a massive hit.
One recent stand-out playground project for us has to be the multi-award winning Trevalgan Touring Park. This beautiful 5-star family camping park located in Cornwall is the perfect setting for a family holiday, and refreshing their out-of-date play equipment was a real pleasure.
Replacing Playground Equipment at Trevalgan Touring Park
Our project consisted of replacing old playground equipment at the campsite to bring a fresh and updated look to the play area. Apart from a beautiful Pirate Ship, the existing equipment was worn and tired, and we wanted to help give the park a much-needed update.
To kickstart this process, we worked closely with the team at Trevalgan to draw up a new, bespoke design that would perfectly fit the play area space available. It was also really important that we included pieces of equipment that catered to the park's demographic – plenty of fun for the little ones but also bigger, more adventurous pieces that could keep older kids entertained.
Once designs were finalised and the Trevalgan team were more than happy with the outcome, we got to work on installing the playground – first removing the old structures, then constructing our incredible new Huck Play equipment.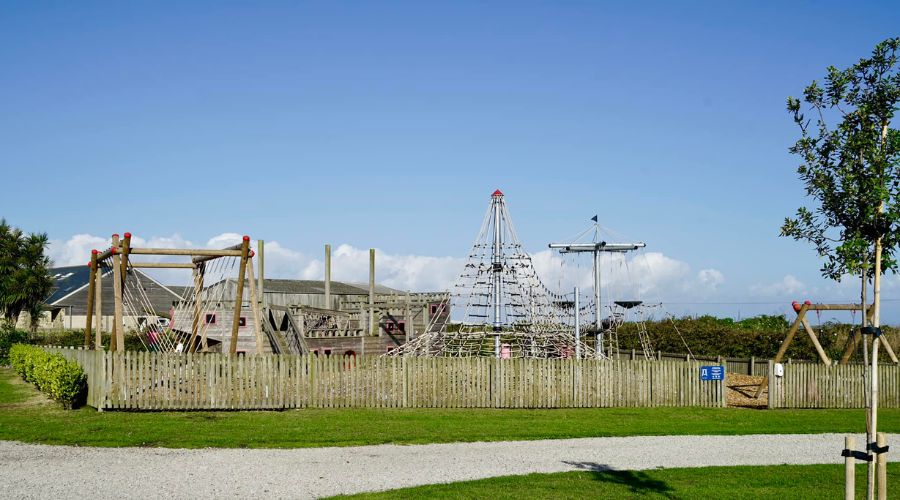 Playground Equipment We Installed at the Campsite
As we've mentioned, one of the most important parts of this project was making sure it really accommodated Trevalgan's demographic, so we made sure to include plenty of exciting features for all ages.
One piece of playground equipment we included here was our very popular Viking Swinger. This large-scale structure features a long square-braided rope suspended from Douglas Fir posts, creating a giant swing that can fit up to 10 children on at a time. We thought it was really important to get children to interact with each other on the playground, and the Viking Swinger does just that.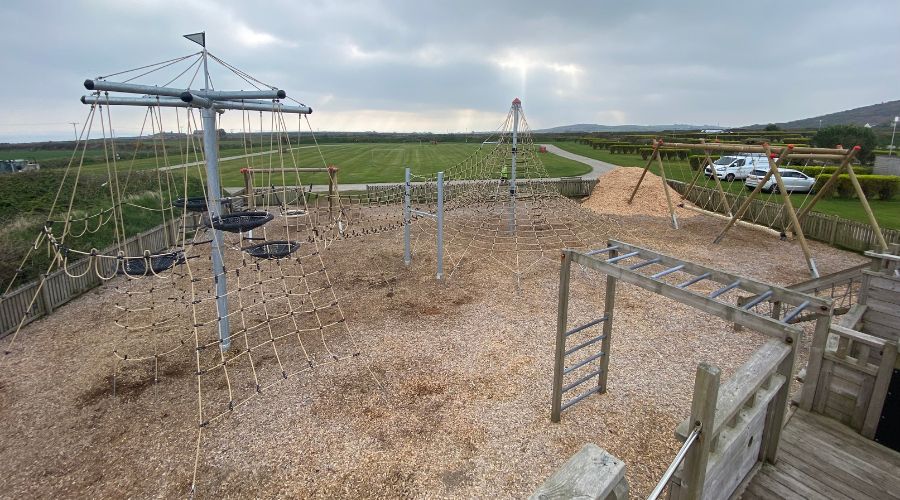 As the main focus on the playground, our design team created a bespoke elevated ropes course, incorporating a number of our playground pieces together to form one big-scale adventure. We combined a Dino Pyramid with a double rope bridge connecting to a Birds Nest Tree, forming a great climbing structure that really hits the mark for fun adventure play!
The Finished Project: How Trevalgan Touring Park is Benefiting
We finished this project back in April of 2022, and the equipment is still standing as well as when we first installed it! The park has seen a full summer holiday of play and is still looking as fresh as ever, proving that our equipment truly is built to last.
All in all, the Trevalgan Touring Park playground project is a massive success – both for us and the park! We're so pleased to have been able to provide this campsite with a safe and fun updated play area, and can only imagine the fantastic family holiday memories that are being made here.
"What an experience! The design process was fun, the equipment looks amazing and the build quality is very high! Not only that, the installation team has been excellent! The investment has been worth every penny." – Trevalgan Touring Park
"Trevalgan Touring Park made what must have been a very difficult decision to invest in such large, bespoke play features. However, their investment has massively paid off. They are receiving repeat bookings this year based on the amazing new play facilities, and the fact parents can relax whilst their children play safely!" – Tony, Huck Play Manager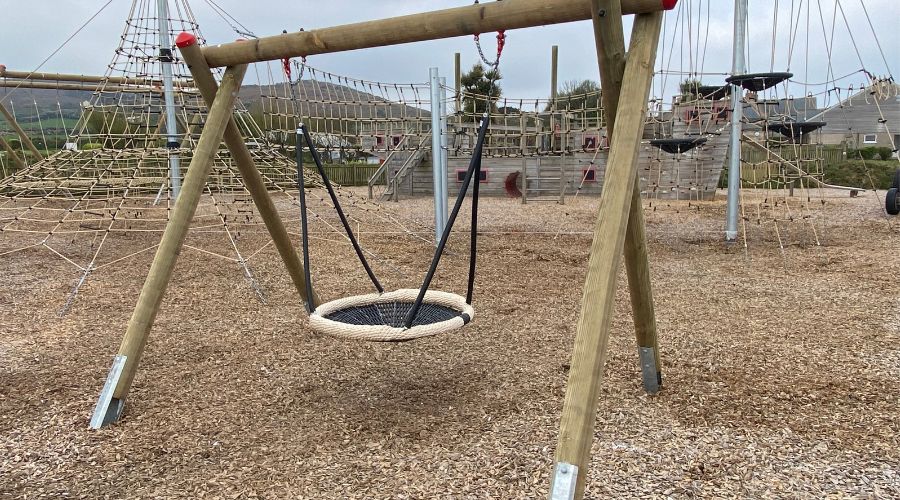 Why Should You Invest in a Huck Play Playground for Your Campsite?
If our example of Trevalgan Touring Park has shown you anything, it's that investing in a playground for your campsite is one of the best contributions you can make, providing some really great benefits that you might not have even considered before!
They Provide a Safe Place for Children to Play
Safety is one of our top priorities at Huck Play, so when you invest in our playground pieces, you can be sure that the kids in your campsite will be playing in a safe and secure environment. All the materials we use to construct our equipment always meet playground safety standards – there's no other way we would do it.
Great Attractions = Returning Campers!
A playground is not only great for the kids, but it's also a great way to attract return campers! Adding an exciting and fun area to your campsite will draw in more campers and keep them coming back for more. People are always looking for an extra something when they go on holiday, and a playground is a perfect way to provide just that!
Parents Can Relax Knowing Their Kids are Safe and Having Fun
Let's not forget the parents, here! While we know that playgrounds are all for the children, they're great for the parents too. Having a playground onsite allows mums and dads to relax, knowing that their kids are safe and having fun nearby. So they can take a break while their little ones play!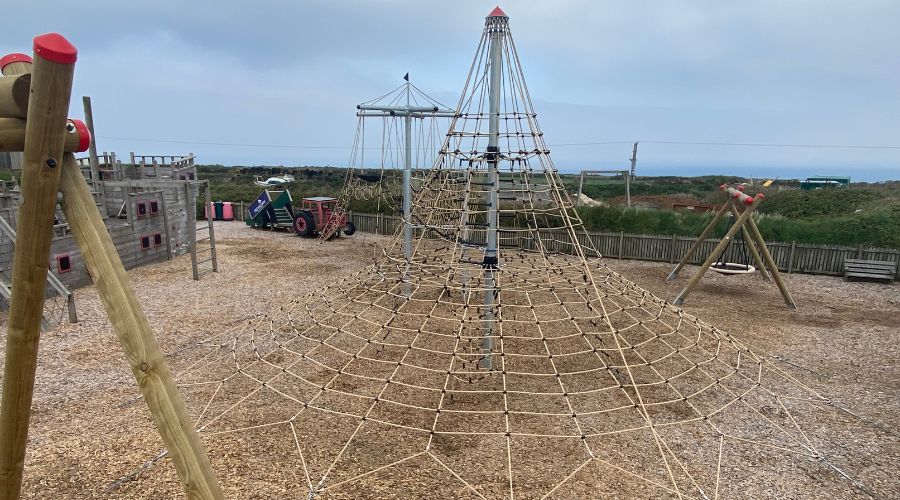 Are You Interested in Building a Playground for Your Campsite? Choose Huck Play!
If you'd like to get in touch with us to discuss how we can help you with your playground project, we'd love to hear from you!

You can give us a call at 01308 425 100 or send us an email at Enquiries@hucknetting.co.uk, and one of our Huck Play team members will be more than happy to talk to you about any ideas you have in mind or how we can help you come up with a bespoke design that perfectly fits your campsite space.
FAQs
What are the benefits of a campsite with a playground?

A playground at your campsite can provide a safe, fun and engaging environment for children while they're on holiday. It also helps to attract new and returning campers, as well as giving parents an area to relax knowing their kids are safe and having fun nearby.
Do campsites need a playground?

Whilst there's no requirement for your campsite to have a playground, you'll be really missing out on a great opportunity if you don't! The benefits of having a playground, from attracting new and returning campers to providing a safe and fun environment for kids, are unbeatable.
Where do I go to get a playground for my campsite?

At Huck Play, of course! We're experts in designing, manufacturing and installing playgrounds for all types of different sites, and we'd love to help you get started on your own playground project. Get in touch with us today to discuss how we can bring your campsite playground to life.
What playground equipment should I choose for my campsite?

You want to make sure the playground equipment you select caters to the demographic of your campers. Choose pieces that are fun and engaging for all age groups, like our Viking Swinger or rope pyramids. Anything that gets children engaging and playing together is a great choice!