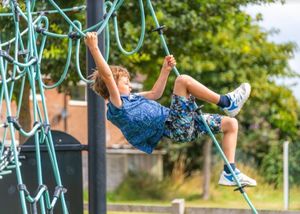 March 13, 2023
Investing in Innovative Primary School Playground Equipment to Promote Learning & Social Skills
In 2016, a survey found that 45% of parents agreed that it is difficult to encourage their children to go outside and play. Having access to school playground equipment while at school is a great way to tackle this and bring outdoor play back into our kids' lives.
Sure, schools are a place for learning and education, but they should also be a space for communication, interaction and physical play. Particularly in primary schools, where children are in the key stage of development, it's essential for them to enjoy outdoor play.
Investing in a top-quality playground for your school environment is a great way to promote physical play and foster creative learning. Playground equipment helps children develop key skills such as problem-solving, socialisation and communication and gives them a break in between classes.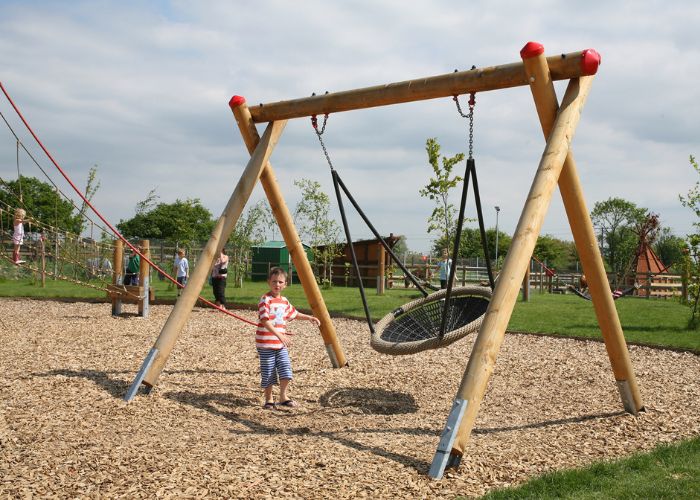 Huck Play's Primary School Playground Equipment
At Huck Play, we love designing, manufacturing and installing playground equipment for schools all over the country. What better way to promote outdoor play than to give your school a brand-new playground!
Our innovative playgrounds are designed with one thing in mind – fun! We believe that for children to learn effectively, they need to be able to have fun and enjoy themselves. That's why we create play areas that are both fun and educational, helping children to develop the skills they need for success.
We have a huge range of school playground equipment that will bring any school grounds to life, from swings and slides to trampolines and sports equipment.
Get in touch with us today to find out more about what we can do for your school!
In the meantime, we've listed our most popular outdoor play equipment for schools to inspire you!
Gondolar Swinger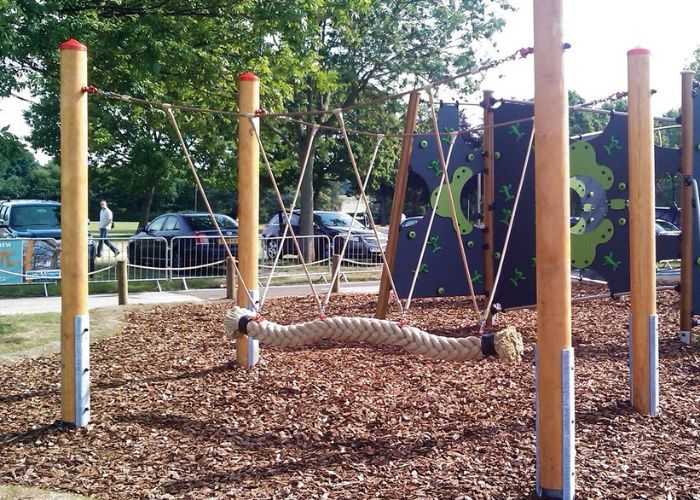 The Gondolar Swinger is a fantastic piece of playground equipment ideal for school playgrounds, and you don't have to have a large space, either!
The rope beam is suspended from four galvanised steel posts, where children can stand and swing on the beam, encouraging them to increase their core strength and body balance.
Plus, there's enough space for up to four children at a time, so they can socialise while they play – which is really important in primary school!
We can change the colour of the Swinger, too, so that you can match your playground to your school colours.
Tarantula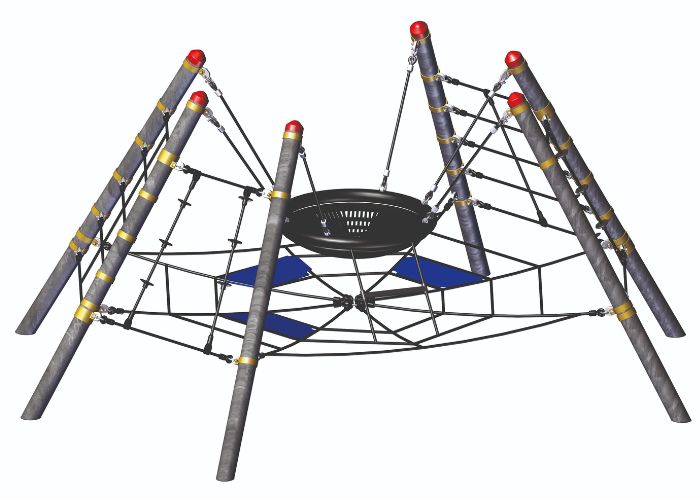 For a really innovative and creative school playground, the Tarantula hits the mark perfectly.
This spider-shaped climbing structure features our classic Bird's Nest® Swing, suspended from six ropes that cause the swing to rock back and forth. Children can swing, climb and chill out in the Tarantula – all the great things of play bundled into one!
It's also great for developing physical and cognitive skills, encouraging children to think about how to get around the multiple elements of the structure.
It's clear to see why this piece of school play equipment is so popular, and we always recommend it for school playgrounds.
Meeting Point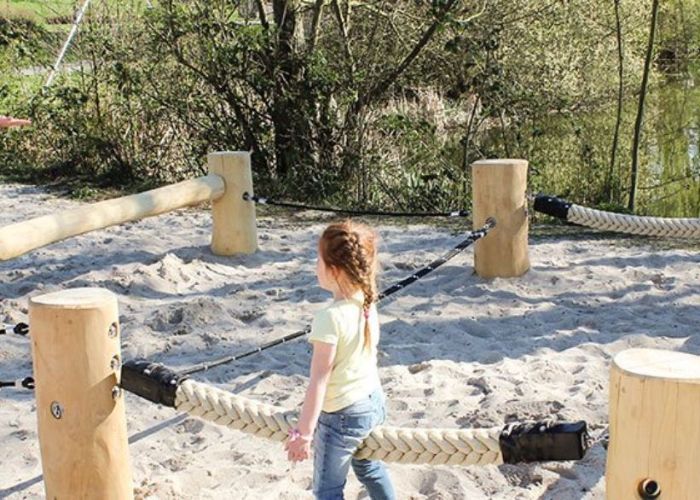 For children to really make the most of their playtime, you want them to have multiple ways to socialise and interact with each other. The Meeting Point is a challenging obstacle course with different elements that will give children plenty of opportunities to work together and help each other out.
It features wooden and rope balance beams and stepping logs following a rectangular route. Children can help each other out, working around the course, but also challenge themselves to finish it faster each time!
We'd recommend laying sand or soft rubber matting underneath to soften any falls.
Huck Play's Sports Equipment for Schools
As well as our fantastic range of outdoor playground equipment, we have a selection of sports equipment for schools, too!
A survey by The Youth Sport Trust found that football was one of the leading extra-curricular sports offered in England primary schools (2014), amongst other sports like netball and cricket.
We have a range of football sports equipment for schools to promote outdoor play, like our football goals. They're made from galvanised steel that can be easily moved around your school fields or sports centres to wherever you need them.
We also have a selection of volleyball nets and basketball nets for children to practice their skills and have fun in the playground.
Why not take a look at our whole range of sports equipment? If you need any support with choosing the best equipment for your school, feel free to contact our team, who can provide you with advice.
The Importance of School Playground Equipment for Student Learning
School playground equipment can be the key to unlocking a wonderful world of learning for students. Incorporating quality playground equipment into school learning can help to stimulate children's physical, cognitive and even social-emotional development.
Physical Benefits of Play for Children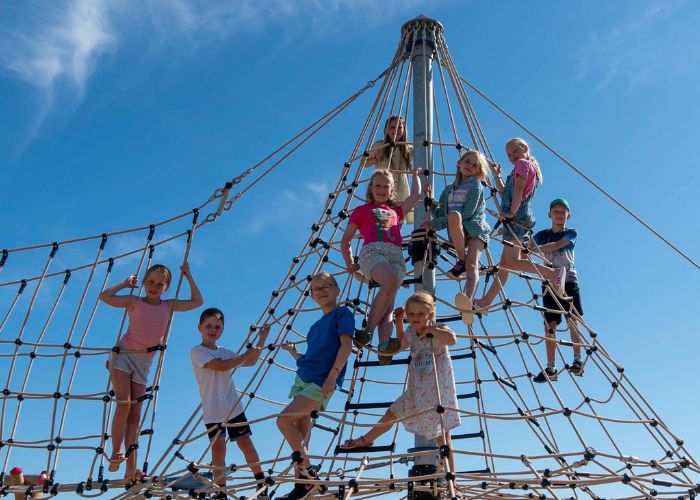 The physical benefits of play are probably the most obvious.
While children are at school, it's essential for them to be able to take regular breaks from sitting in their chairs, and having equipment in your school playground is a fantastic way to do this.
Studies have shown that regular physical activity not only helps children to maintain a healthy weight and cardiovascular fitness, but can also boost children's self-esteem and confidence levels.
Cognitive Benefits of Play for Children
During primary school years, children are at one of the most important stages of their life for growth and development, so doing what we can to encourage it is key.
Incorporating play time into the school day can help to stimulate children's cognitive skills, such as problem-solving, decision-making and creative thinking.
Creating outdoor classrooms with playground equipment can give children an opportunity to take risks, explore and make their own discoveries.
Social Benefits of Play for Children
At Huck Play, we work to create playground equipment that can be used by more than one child at a time, promoting social play.
Social play is important for children to develop communication and problem-solving skills, as well as making friends and working in teams.
Ultimately, the more children are involved in social play activities, the better their school experience will be.
Choose Huck Play – the Best in School Playground Equipment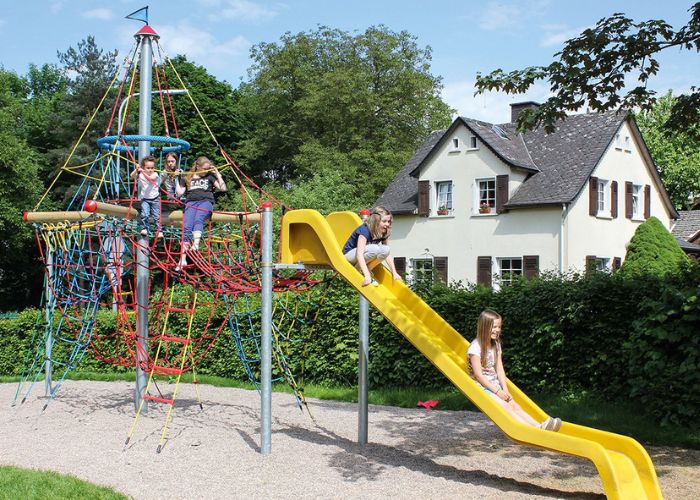 We are one of the UK's leading playground equipment suppliers, and we are dedicated to creating the best possible play areas for children. We can provide your school with excellent quality playground equipment that will help to promote learning, physical activity and social skills.
Further than that, we can even design fully bespoke new school playground equipment to fit whatever size and shape play area you've got. Our team know how to carefully and cleverly work with your existing space to create something truly special.
If you're thinking about investing in a new playground for your school, get in touch with us today to find out how we can help.
You can view our entire range of school playground equipment here
FAQs
What do you put in a school playground?

The playground equipment you put in your school playground should prompt learning and fitness. Choose structures where children have to think and work together, such as rope climbers, balance beams, swings, slides and more.
What is the most popular playground equipment?

The Tarantula playground structure is one of our most popular pieces, and we always recommend it to schools that are looking to develop their playground. Take a look here!
How can I make my school playground better?

You can completely transform your school's playground with Huck Play's equipment. Our children's playground equipment is cleverly designed to encourage children to make the most of their playtime.

Get in touch with us today to find out how we can help turn your school's outdoor space into an exciting and fun-filled environment!
How do you design a school playground?

If you're searching for a playground designer to transform your school's outdoor space, Huck Play is the perfect answer. Our team of expert designers can create fully unique structures to fit your brief and plan the layout of your space to fully maximise the area you have. Give us a call!