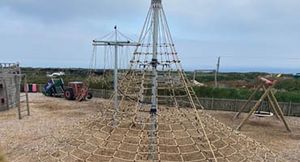 June 14, 2023
Top 5 Most Popular Huck Play Playground Designs For Schools
School playgrounds provide much-needed space for children to have a break in between learning and can offer a great way to stay active.
In fact, a lot of a child's learning takes place outside of the classroom and in active play. School playgrounds have the potential to be a place of discovery and exploration for kids, where they can practise their social skills and learn about themselves and the world around them.
"Play in the preschool years enables children to explore and make sense of the world around them, as well as to use and develop their imagination and creativity." - UNICEF
Having the right playground equipment in place is important for supporting their all-important education. Play equipment that promotes physical activity, imagination and social interaction can have a big impact on the learning of children.
Huck Play's Playground Equipment for Schools
We have developed numerous playground designs for schools and have over 20 years of experience in providing high-quality, safe playground equipment to children of all ages.
If you'd like to add a playground to your school, or you want to give your existing one a well-deserved refresh, we've got a fantastic range of playground equipment that's ideal for all schools. Much of our school playground equipment is tailored to different age ranges, from 3 years to 6+, so you can create a playground that's appropriate for whatever age you're catering to.
We've pulled together our 5 most popular playground designs for schools to give you an insight into the incredible equipment we have on offer. Take a look!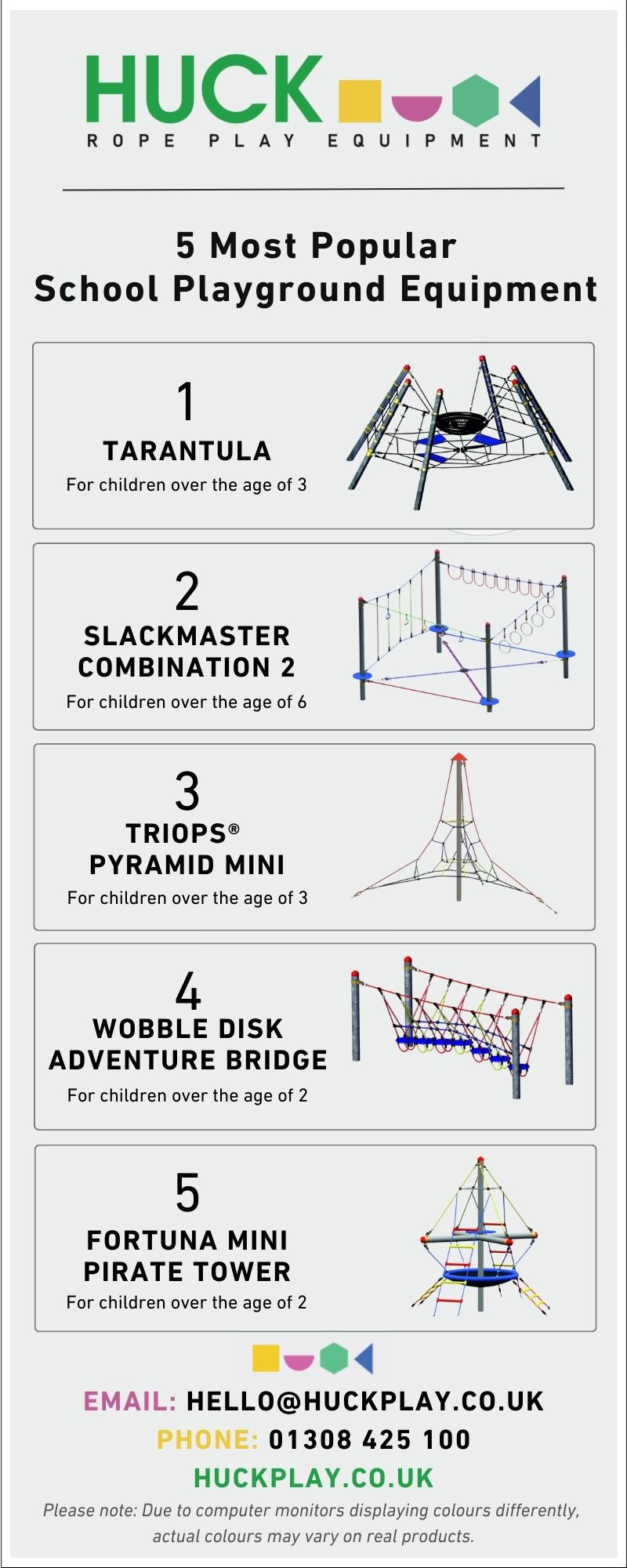 'Tarantula' Climbing Structure
The 'Tarantula' climbing structure is a great addition to school playgrounds. With its fun spider-like design and scramble net elements, this climbing structure is perfect for encouraging problem-solving and risk-taking in children.
Our iconic Bird's Nest® hangs from 6 suspension ropes that cause the basket to rock back and forth, combined with climbing ropes that help promote motor skills and physical activity. As the name implies, the Tarantula adds a creepy crawly theme to the play environment, prompting role play and games.
The structure allows up to 11 children at a time to climb, chill and explore – making it an excellent way for children to interact and develop their social skills. It's suited to children over the age of 3, perfect for preschool and upwards.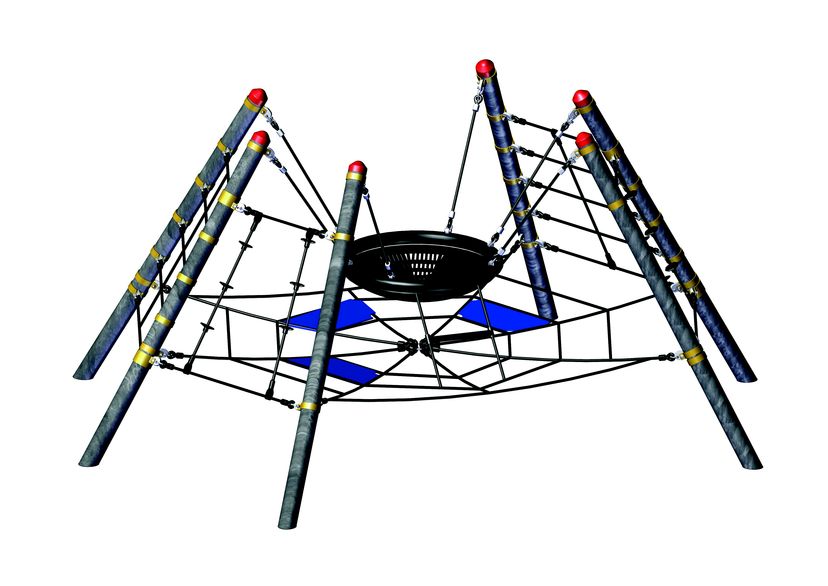 Slackmaster Combination 2
For outdoor play that really encourages problem-solving and teamwork, the Slackmaster Combination 2 is a great choice.
This combination structure includes an array of elements – including balancing ropes, hoop monkey bars, and other overhead ropes for swinging and clinging that require children to use their motor and spatial awareness in order to complete the course successfully.
The play equipment is suited to children over the age of 6, so it's the perfect addition to a playground for primary school or secondary school-aged children.
It's also great for developing their social side – as they'll work together to complete the course and learn about cooperation and communication at the same time.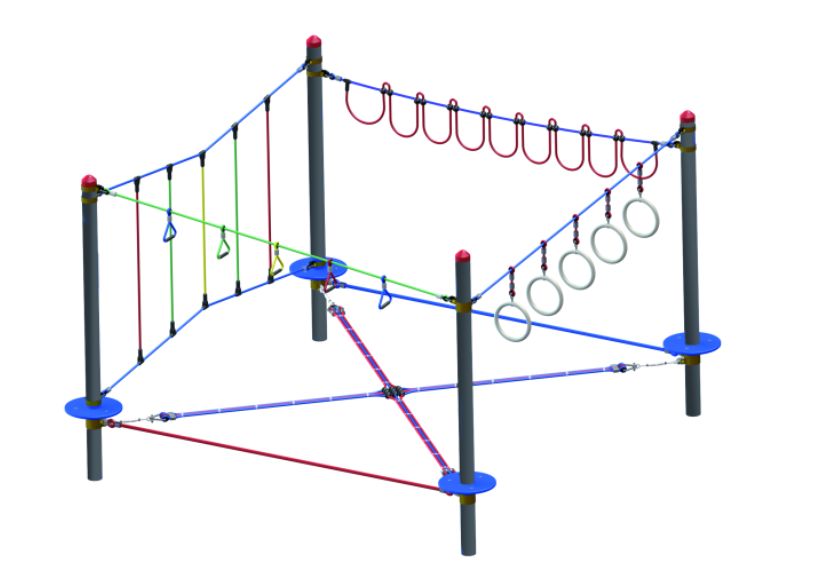 Triops® Pyramid Mini
The Triops® Pyramid Mini is a good choice of playground equipment that's very well-suited to schools looking for a budget-friendly option. But that doesn't take away from the fact that this is a great piece of kit!
This mini rope pyramid is suitable for children over the age of 3 and accommodates many children at the same time, allowing them to interact and engage with one another. They can climb to the top, helping each other to get there, or make it a game by trying to get to the top the quickest.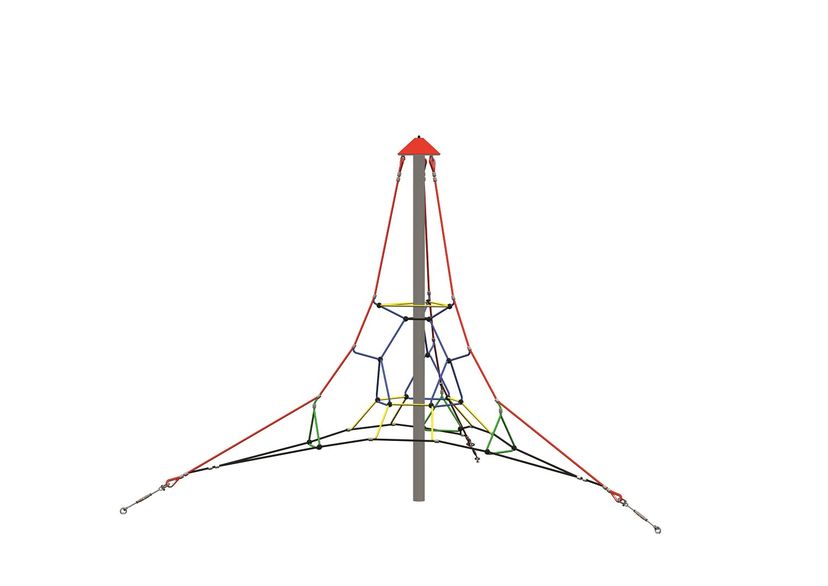 Wobble Disk Adventure Bridge
The Wobble Disk Bridge is another great school playground addition for encouraging teamwork and problem-solving in children aged 2+.
The bridge is made using our quality galvanised steel posts, suspending 7 wobble disks with our play netting. Children can take turns to cross the bridge or work together to make it across together, using their balance and coordination to make it across safely.
It's a great way to get children out of the classroom and active during their free time, engaging in imaginative play and cooperative tasks. We offer many other items that we can connect to make amazing trim trails.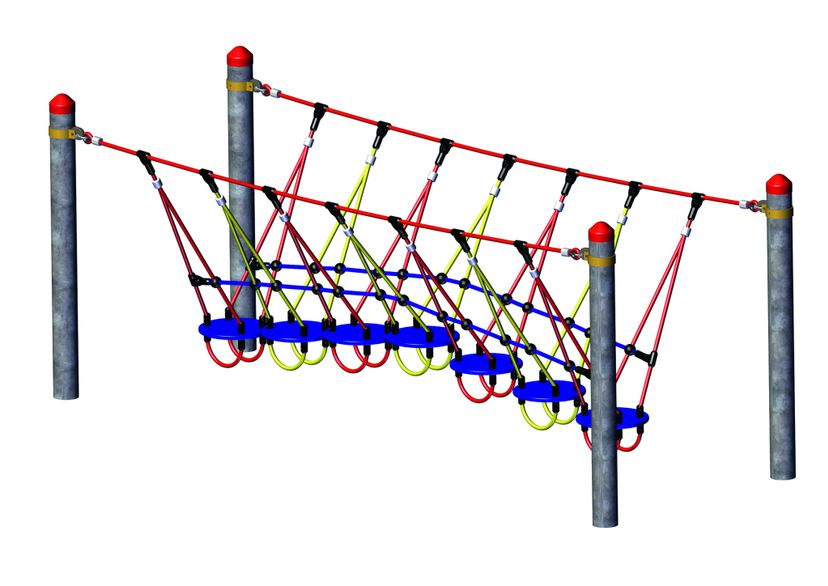 'Fortuna' Mini Pirate Tower
Themed playground equipment for schools is an excellent way to get children excited about being outdoors. The 'Fortuna' Mini Pirate Tower is a great example of this – it's sure to be a hit with children of all ages (upwards of 2 years).
The structure combines our signature Huck Bird's Nest® swing with rope ladders, allowing children to climb up to the top of the tower, where they can chill on the upper rope and steel frames or scramble back down again.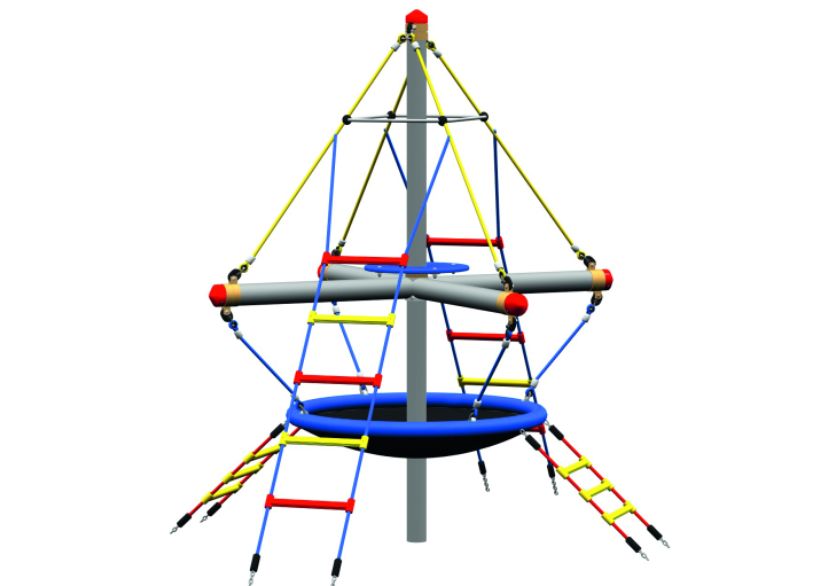 Huck Play's Custom Playground Designs for Schools
While we have a superb range of standard playground equipment for schools, we also offer a custom design service, which allows you to really make your playground designs unique and personal to your school.
Whether you want to alter one of the school playground structures we already offer or you want to design something totally original, our team of playground designers and installers can make it happen.
We'll work closely with you to come up with design ideas and create rendered images so you can visualise your custom playground.
Plus, every Huck Play product is designed to meet the strictest safety standards and regulations, making sure it's safe and suitable for children of all ages.
Powder-Coating & Rope Colour Options
You can even choose the colours of your playground equipment! With our powder-coating options, we can paint the galvanised steel in a range of colours to really make your playground stand out.
We also offer an array of rope colours (and rope connector colours), so you can customise the design even further.
Our design team will work with you to come up with colourway ideas, whether that's to fit with your school's branding, the playground theme, or just to make it look as fun and eye-catching as possible.
Standard Powder-Coating Colour Options:
Melon Yellow (RAL 1028)

Sky Blue (RAL 5015)

Light Green (RAL 6027)
Heather Violet (RAL 4003)
Orange Brown (RAL 8023)
Pure Green (RAL 6037)
Rope Colour Options
UV Orange
Turquoise
Green
Yellow
Blue
Pink
Red
Grey
Rust
Hemp
Black
Or a combination
Ready To Transform Your School Playground?
Whether it's a school playground refresh or constructing a completely new playground, we're the ideal partner for your project.
Take a look at our full range of school play equipment to see exactly what we have on offer, and get in touch with our team to learn more about how Huck Play can help you make your school playground ideas come to life.
If you're interested in our custom design service, you can also get in touch to start discussing your unique school playground designs.
We look forward to hearing from you and getting started on your new school playground equipment!
FAQs
You'll find the answers to some of our most asked questions about school playgrounds below, but if you can't find what you're searching for, don't hesitate to get in touch with our team. Call us on 01308 425 100 or email us at hello@huckplay.co.uk and ask away! We're always happy to help.
Do Schools Need a Playground?

We think that every school should have a playground whenever possible. Playgrounds provide an excellent opportunity for children to stay active and use their imagination, as well as develop their social skills.
What Should Go in a School Playground?

The outdoor play equipment should be suited to the ages of children that attend your school to make sure it's safe and appropriate. This could include things like swings, slides and climbing frames - as well as structures that encourage problem-solving, such as scramble nets or balance beams.
How Often Should School Playgrounds Be Inspected?

All playgrounds - regardless of whether they're located at schools or other public places - should be inspected regularly. Weekly, monthly, quarterly and annual checks should be carried out. Find more details about playground inspection here
How Can I Get Funding for a School Playground?

Yes, there are numerous playground funding and grant schemes available across England and the rest of the UK that your school could be eligible for. Please take a look at our 2023 Funding and Grants blog post for more information on what these grants are.