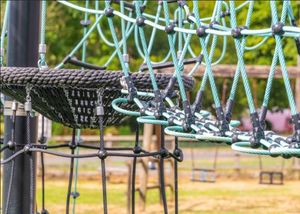 March 24, 2023
Get Your Community Moving with Our Exciting Outdoor Playground Equipment
Are you looking to create a fun outdoor play area for your community? Our outdoor playground equipment can help you turn any outdoor space into a fantastic place for children to play and interact in their community.
Playgrounds are a central part of any local community. In fact, there are more than 16,000 playgrounds provided by England's district councils to encourage children to play and explore their environment.
Not only that, but playparks can be a great way to bring together parents, families and neighbours – creating a better sense of community!
Huck Play's Outdoor Playground Equipment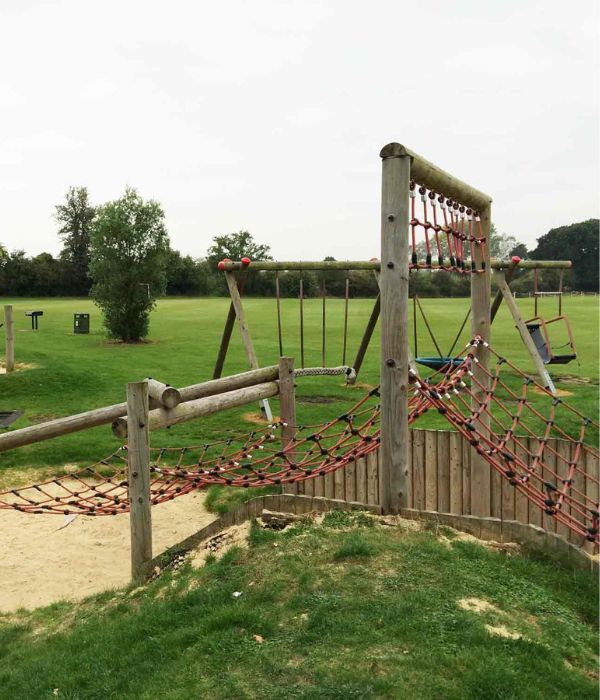 At Huck Play, we're dedicated to creating exciting and innovative outdoor playground equipment to transform any outdoor space into a community-focused play area. From swings and slides to full-scale bespoke playground designs, we've got something to fit whatever your community needs!
We're actually one of the UK's leading suppliers of commercial playground equipment, so if anyone knows what it takes to create an amazing children's playground – it's us!
Our design team work wonders to create unique, imaginative and safe play equipment that not only looks great but serves the purpose of encouraging kids to be active and stay healthy.
Are you interested in the children's playground equipment we could create and supply for your community?
Contact our team of playground experts today! We can help you create a truly exciting outdoor play area for everyone to enjoy and work with you to design something that fits your space and that your community will use time and time again.
Read on to get a taste of the exciting outdoor playground equipment we can provide to your community!
Bird's Nest Swings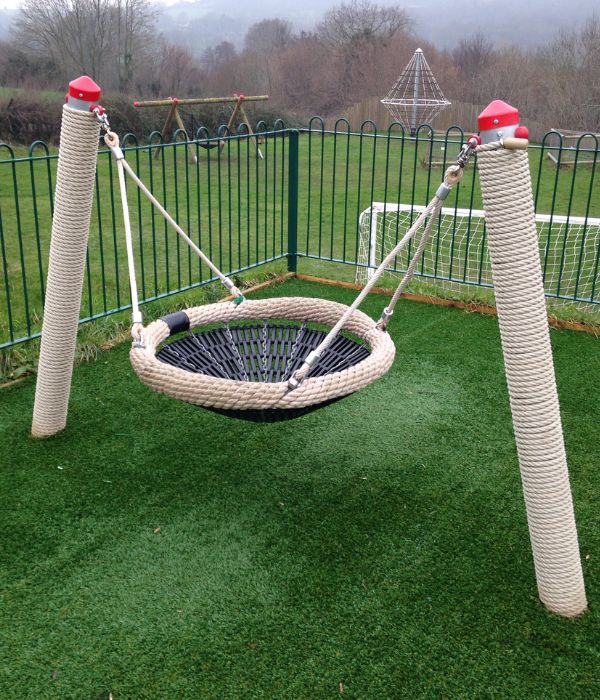 We're best known for our creation of the hugely popular Bird's Nest® Swing – a basket swing crafted from our innovative knotless rope and netting system.
We think a basket swing is an essential piece of outdoor playground equipment in any play area, no matter the size, shape or theme! Children love swings (and we would know since we're experts in this field), and a basket swing is a great way to allow up to five children to play together.
Our Bird's Nest® Swing is crafted from rope and netting that's been designed with the highest safety standards in mind – and it's also available in different colours to suit your playground's style!
They're also inclusive, so every child can engage in active play together – making it an ideal companion piece of equipment for any children's park.
Bird's Nest Trees
One of our most famed pieces of children's playground equipment is our Bird's Nest Tree series.
We're known for being the pioneers of the popular Bird's Nest® Swing, and we've taken this piece and turned it up a notch to create a whole series of large-scale playground structures!
We've built our Bird's Nest Tree series around the rope basket structure and included a whole array of other elements, including tunnel slides, rope bridges, rope climbing frames and scrambling nets.
If you're looking for a fantastic centre-piece for your outdoor play parks, this is definitely it.
Bird's Nest Olive Tree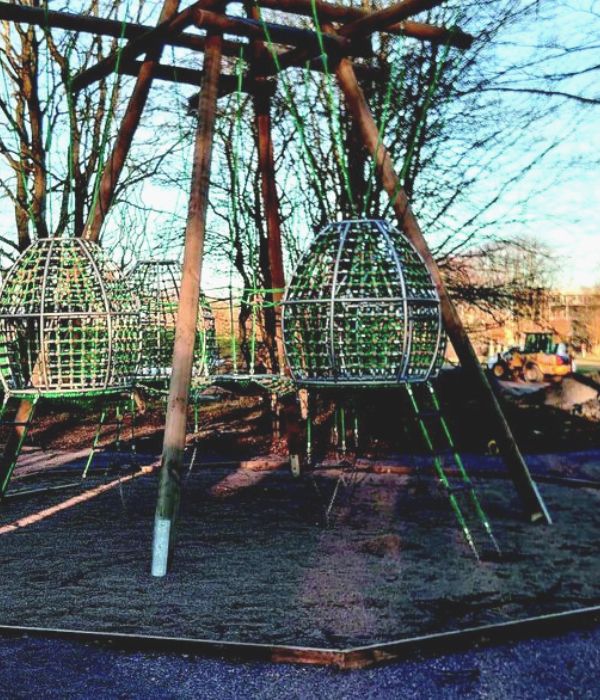 One of our most popular structures in the series is the Bird's Nest Olive Tree.
It features four large olive-shaped rope cages that can be used for chilling or climbing, with rope ladders and net crossings attached.
This is a really great piece of outdoor playground equipment for kids to explore, climb in and out of and use their imaginations with.
Rope Pyramids
Our rope pyramids are a great way to encourage kids to play and be active – while also having fun.
We have a huge range of pyramids, all different shapes and sizes, so you can choose whichever fits into your outdoor playground best!
Our Most Popular Rope Pyramids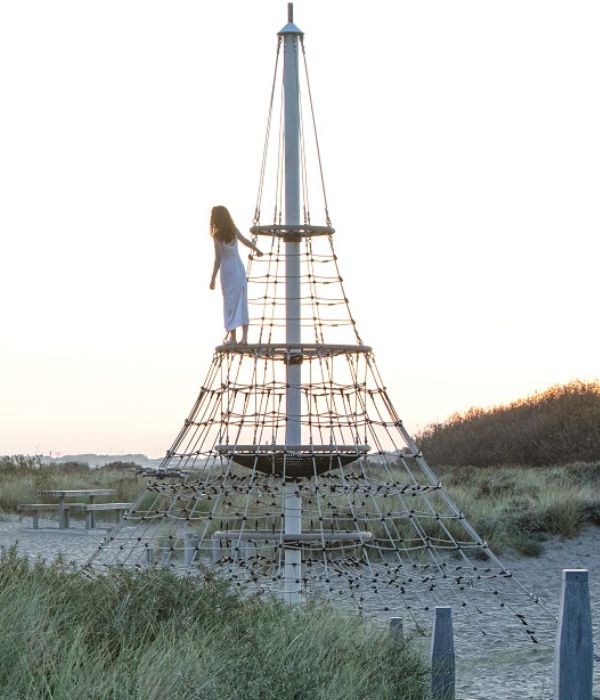 The Dino XXL Rope Net Pyramid is one of our largest rope pyramids, and it's ideal if you have a large outdoor space to work with. Children can climb all the way to the top of the 1.75-metre-high pyramid and feel on top of the world.
Or, for a smaller alternative, the Spider 4 Pyramid stands at 0.95 metres (fall height) and features a diamond-shaped tower. It's more suited towards younger children over the age of 3, so it fits in nicely with a younger children's play park.
Parkour Equipment
As well as our innovative and creative playground structures, we also manufacture and supply a great range of parkour equipment ideal for filling in any empty spaces in your playground.
Our pieces are designed to really encourage children to get active and use the play equipment to its full potential. We have a wide range of different pieces, from wobble beams to rings and posts to rope hammocks, so there's something for every outdoor playground.
Our parkour equipment is perfect for teaching kids the skills of agility, coordination and balance (amongst others) and being great for their physical and mental development.
Plus, they can communicate and engage with other children in their community while doing it – what better way to create an interactive and fun outdoor play area?
Our Bespoke Playground Design Service
Although we have a fantastic range of pre-designed outdoor playground equipment, we can actually work with you to create something completely unique, too!
We know that no two playgrounds are the same, so our bespoke design service is perfect for creating something that fits your space and community perfectly.
Our team of in-house playground experts have years of experience designing amazing play areas, so they know what it takes to create something truly unique and fits your space and budget.
We can even provide you with a 3D drawing so you can visualise what the playground equipment will look like before it's installed in your space. That way, you can see if it meets your brief and expectations.
Not only can we design your individual play structures, but we can also draw up a layout plan for your whole playground! We'll help to maximise your space by suggesting pathways and arranging the equipment in a way that ensures every child will be able to play safely and to their full potential.
Contact us today to discuss your playground plans and ideas, and we can help you to create something truly special for your outdoor play area.
We Can Also Install Your Playground Equipment!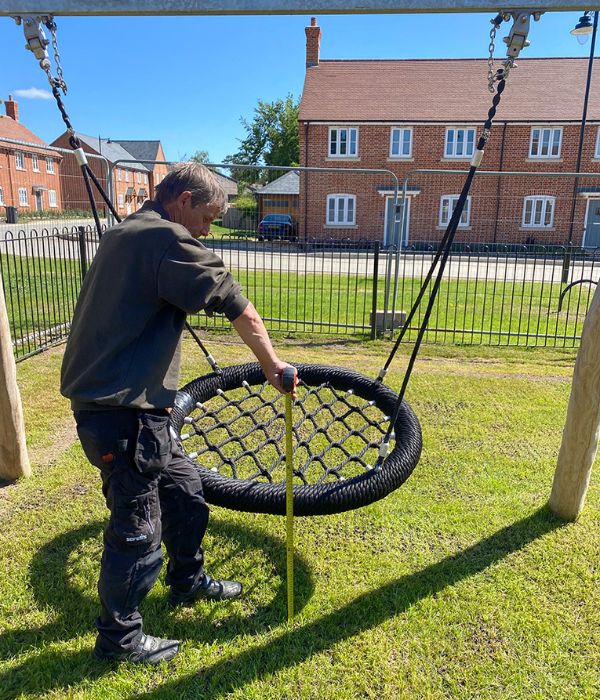 Designing and selecting your playground equipment is only the first step in creating your perfect outdoor play area. Installing it is the next!
Here at Huck Play, we can even handle the installation of your outdoor playground equipment, with our expert team of fitters. We know how important it is that the job is done properly and safely – which is why we always recommend using a professional installation team.
Get in touch with us today and let us know what playground equipment you're interested in, and we can provide you with an accurate installation quote.
Or, if you want some assistance in selecting the perfect outdoor playground equipment for your space, our team of experienced professionals can offer you expert advice.
We offer complete end-to-end service – from design to installation – so you can be sure that your playground will look great, last for many years and bring joy to your local community!
Give Back to your Community with Huck Play's Outdoor Play Equipment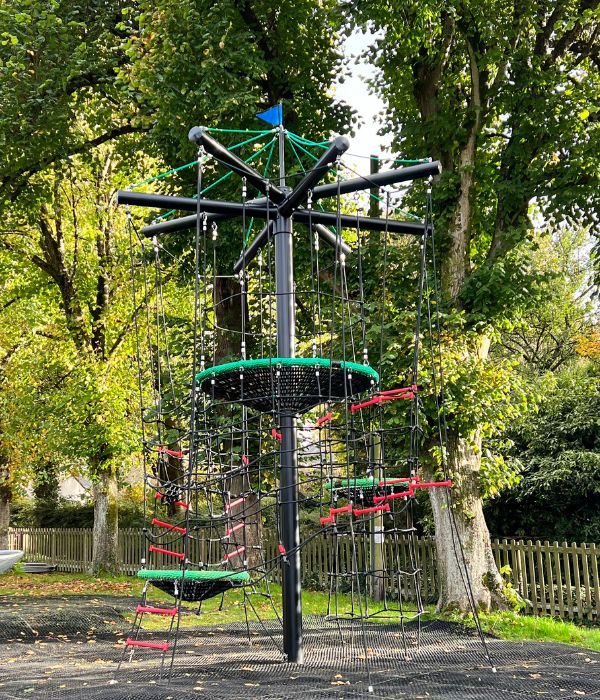 If your housing estate needs a little spruce up, or you're thinking of ways to give back to your local community, our outdoor playground equipment is the perfect answer!
Playgrounds give children a space to enjoy doing what they do best – being kids! Give them a chance to explore, be creative and make the most of their environment. Plus, a local park even encourages parents and neighbours to come together and bond – a great way to build community cohesion.
We take pride in helping to create safe, exciting and imaginative playgrounds around the UK. If you're interested in helping us to transform your community with our outdoor playground equipment, get in touch with us today!
We can support you through the whole end-to-end process, from initial design to installation. Let us know what you're thinking, and we can work together to create something truly special!
FAQs
What can I use for an outdoor playground?

You can get really creative with your outdoor playground! You could come up with a whole overarching theme for your playground and pick out equipment to match, or you could mix and match different pieces to create something really unique.

Include classic pieces like slides, swings and climbing structures, and add in some of our parkour equipment for an extra layer of fun. You might also want to include outdoor fitness equipment, so your park appeals to adults as well as children.
What is the most popular playground equipment?

Our Huck Bird's Nest® Swing is one of our most popular and famed pieces of playground equipment. The basket swing is crafted from our knotless rope and comes in a range of different colours to match whatever playground it's fitted in to.
What equipment is needed for a playground?

Classic outdoor playground equipment like slides, swings, climbing ropes and scramble nets are a must in every playground. They're what children enjoy playing on the most, so it's important that they're included in yours. You can also add in a large centre structure, like one of our Bird's Nest Trees.
What are the benefits of play to the community?

A community playground gives children in the local space the area to play, socialise and get active with other children in their neighbourhood. It also lets parents and neighbours meet with each other and create a better sense of community.