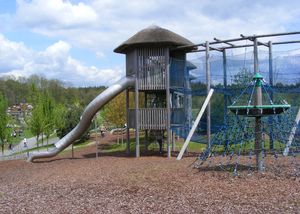 March 20, 2023
How We Transformed Monkey World's Outdoor Space with Our Wooden Parks
One of the most special projects for the Huck Play team was the installation of our wooden parks at Monkey World in Dorset. It's a fantastic example of the incredible design and installation work carried out by our expert team.
Over the many years we've been manufacturing and installing children's playground equipment and play areas, there have been so many projects we've been proud of. We've worked at schools, holiday parks and many commercial projects.
But one that the team is always particularly proud of is the installation we completed at Monkey World.
"This was a truly exciting project to work on.Not only because of the unique client, but also the large scale of the play structures. At the time, this was the biggest play structure/area Huck Play UK had undertaken. Over twenty years have passed, and it's still standing strong." – Tony Lucas, Huck Play Manager
About Monkey World
This brilliant animal sanctuary is home to over 250 primates across 65 acres and takes in rescued chimps worldwide. Knowing that these animals were so close to where we were working made it all the more special for us.
The sanctuary is open to the public to visit, and it's especially popular with children. Many schools arrange trips for their students to the sanctuary, and it's popular with families with young children, too.
Because this sanctuary is so favoured by children, having a playpark in place was an important addition, allowing children to play in between looking at the monkeys.
Wooden Playground Equipment Design Process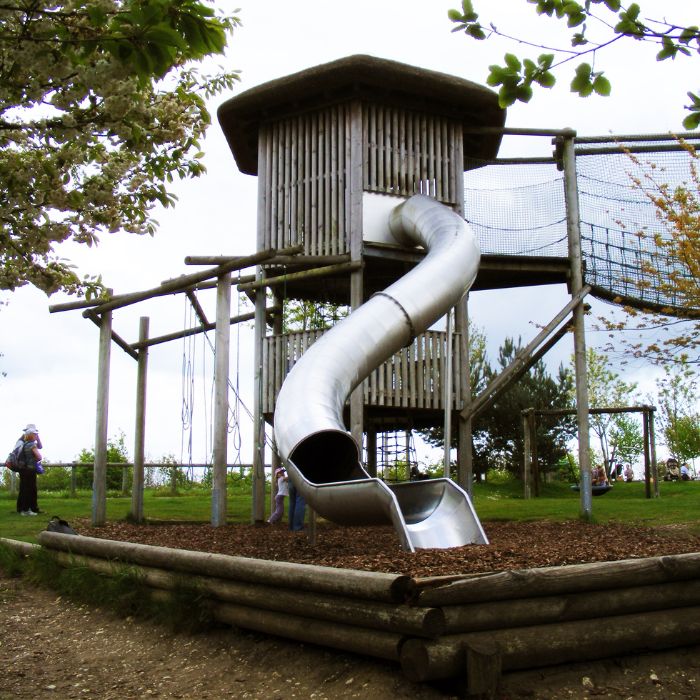 We were tasked with creating a playground that would fit the natural surroundings and offer children of all ages an exciting outdoor space. With this in mind, we began designing play equipment, and it became clear that wood playground equipment fit the bill perfectly.
Wooden playgrounds are durable, long-lasting, and match in really well with the natural environment.
But we didn't want to just create any old wooden playground!
Our design team got to work on coming up with a large-scale structure with multiple connecting elements. We wanted to make sure the structure was an inviting space that encouraged children of all ages and abilities to join in, and creating something that was interconnected was a key part of this.
The final design featured a combination of a large wooden tower with a net tunnel running through to the ground, a twisting metal slide from top to bottom of the tower, and a range of scramble net bridges and scramble tunnels for the children to explore.
As well as this wooden tower, we also installed a range of free-standing wooden play equipment, such as the Dino 3 Rope Net Pyramid.
Wooden Play Equipment Manufacturing Process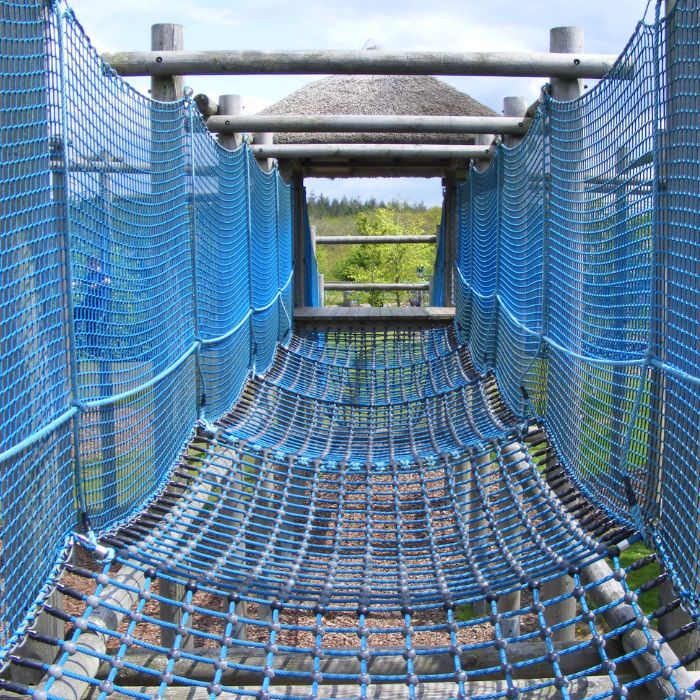 Once our design team had completed their work and the members of Monkey World were happy with the design; we began manufacturing the wooden play equipment.
Our team of manufacturers set to work putting the design into action, creating the parts and pieces necessary to construct the wooden playground. We used high-quality wood to ensure that all elements of the play area were safe, durable, and long-lasting.
Across almost all of our playground equipment, we use our innovative knotless netting to create rope elements that are soft enough for children to safely play on but incredibly strong and hard-wearing.
Installing Monkey World's New Play Equipment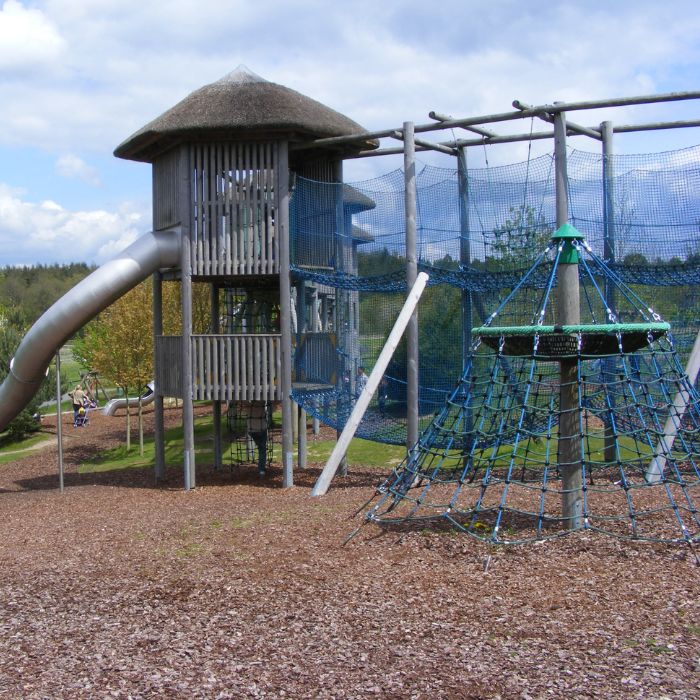 The final stage in this project was to install the incredible wood playground equipment that our team had designed and manufactured.
Our installation teams worked quickly, efficiently and carefully to ensure that the play area was installed in line with our high standards of safety but also quickly enough so that the sanctuary could open the park to the public as soon as possible.
The Success of our Wood Playground at Monkey World
Since the opening of the playground in 2000, we've received many amazing comments about the playground from the staff and visitors at Monkey World.
We've also had several reports of children loving and really enjoying the playground. It's been great to see that our playground design and installation have helped to create an outdoor space for children to enjoy and explore!
"It was amazing to see the play equipment being enjoyed by so many children… and adults! Children of all ages playing together, making new friends, helping each other out, and just having a great time. An amazing project." – Tony Lucas, Huck Play Manager
Huck Play's Bespoke Wooden Parks and Playground Equipment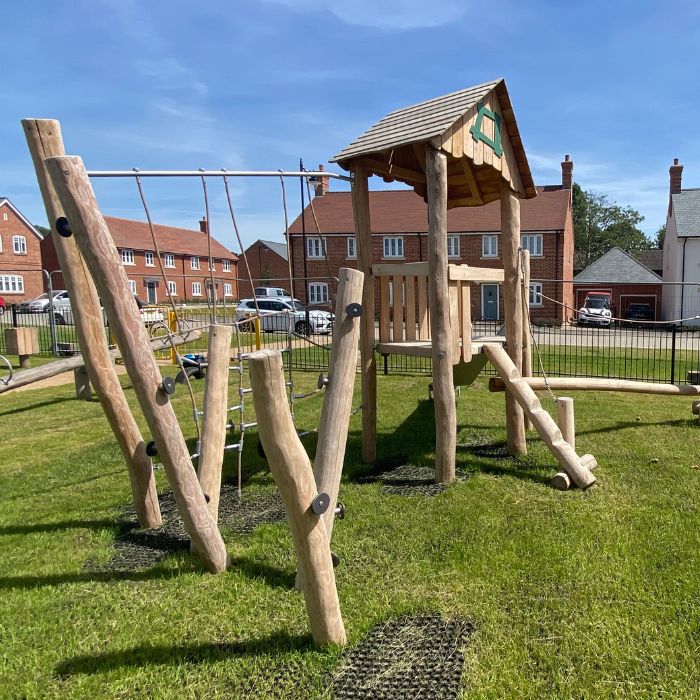 At Huck Play, we're dedicated to providing playgrounds that not only meet safety standards but also provide an exciting and stimulating environment for children to explore.
We offer a range of play equipment, from large-scale timber play equipment to smaller wooden obstacle courses. With our wooden parks, you can completely transform an outdoor space into a fun and exciting playground.
If you're looking for something special, our design team can create bespoke wooden park designs that are tailored to fit the particular needs of your space – exactly like we did at Monkey World!
How the Ordering Process Works
If you're interested in our wooden parks or any of our other playground equipment, the process is super simple!
Find your ideal playground equipment: We have a huge selection of rope and wooden playground equipment to choose from, so browse through our website to see exactly what's available!

Get in touch with our experts: Once you've found the playground equipment you'd like, add the products to your basket on our Huck Play website, and your inquiry will be sent through to our playground team. Or, you could give us a call to discuss your project in more detail - we're always happy to help!

Finance and quotes: We'll work with you to create a quote that fits within your budget.

Design stage: We will then help you design your playground, taking into account any special requirements and making sure that it's perfectly suited to your needs.

Installation stage: Once the plans have been drawn out and approved, we can start working on installing your playground. Our experienced and highly qualified team can handle all aspects of the project, from installing foundations to putting up the equipment itself!
Whether you're after a similar bespoke wooden playground like the one we created for our friends at Monkey World, or you're looking for a smaller-scale solution, Huck Play can help.
Get in touch to discuss your requirements and find out what we can do to help you! climbing frame steel components
---
FAQs
Is wooden playground equipment better than plastic?

Wooden playground equipment is a naturally durable option that can last for many years. Wood play equipment is great for creating natural-looking playgrounds while still ensuring play safety..
What is the best timber for outdoor play equipment?

"Different timbers possess different characteristics/properties that lend themselves to being used to construct play equipment. At Huck, we manufacture our timber equipment using quarter-sawn Douglas Fir because of its core and crack-free properties. And Robinia, because of its beautiful wavy appearance and its natural strength and defence against decay.
What is your most popular piece of wood playground equipment?

One of our most popular pieces of wood playground equipment is the Climbing Glasses structure. This piece is shaped exactly like a pair of glasses and provides children with a space to climb, swing and chill. It's truly great!
Where in the UK is Monkey World?

Monkey World is located in Wareham, Dorset, in the UK. The sanctuary lies across 65 acres of land and is open to the public.