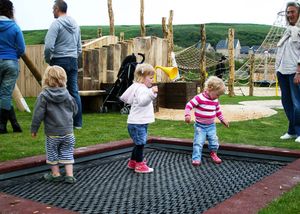 Sept. 14, 2023
Expert Playground Installation Across the UK
One of the things that make us the UK's top supplier of rope-based play equipment is the incredible end-to-end service we offer. Right from the initial design draw-ups to the playground installation, our work is carried out with pride, resulting in a fantastic end result.
Playground installation is perhaps the biggest part of the entire process, and getting it right involves a lot of steps.
We've created a sound approach to ensuring our playground installation is carried out with the utmost care and attention by building a team of qualified and expert installers. And from the feedback we've received, we're confident in our ability to provide a top-notch, professional playground installation service.
"What an experience! The design process was fun, the equipment looks amazing and the build quality is very high! Not only that, the installation team has been excellent! The investment has been worth every penny." - Trevalgan Touring Park
Playground Installations We Work On
he Huck Play team will work on just about any playground project, whether that's commercial playground installation or smaller local council play parks.
Although we're based in the South West, we've been installing playgrounds across the UK for over 25 years. We firmly believe all children should have access to play, no matter their age, ability or location, so we work with a variety of organisations to get their playgrounds up and running.
Whether you're planning for an entirely new playground or some pieces of equipment to refresh the existing space, we can help you create the perfect outdoor space.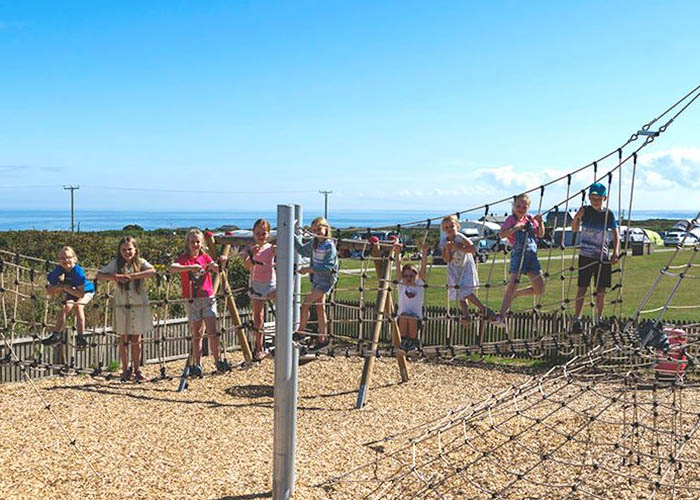 Our End-to-End Playground Service
So that we can ensure the highest-quality end result, we offer a complete end-to-end playground service, from the design of the equipment to the final installation.
Before any of that takes place, we'll discuss with you exactly what it is you want from your playground and go through any existing ideas you may have, as well as any land-related considerations.
Once we know what you want, we'll carry out a site survey to assess the space. The information we collect will then be passed onto our design team, who will start working on the layout of the playground and drawing up any bespoke designs.
Playground Design
Our design team are the best at what they do – creating innovative outdoor playground equipment to encourage creative and imaginative play.
The designers will take into consideration the layout of the land and any special requests you have submitted before creating the perfect playground for your space.
These initial designs will be sent to you to ensure you're happy, or we can work with you if any tweaks are needed.
Once you're happy with the designs, it's time to move on to manufacturing.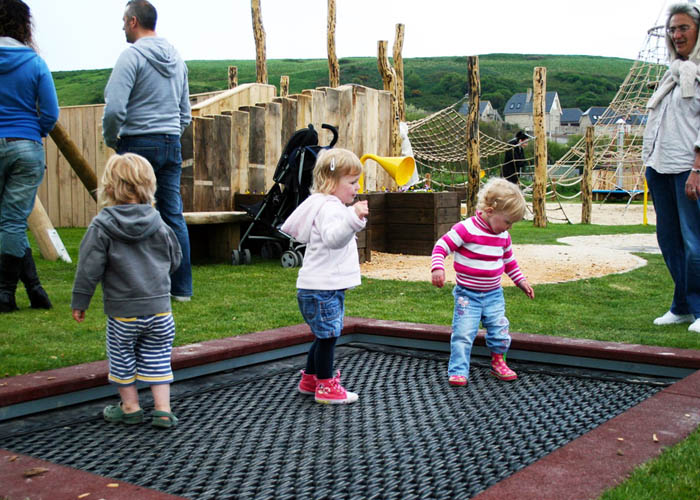 Playground Equipment Manufacturing
The manufacturing process is where all the hard work begins. As a roped-based play equipment supplier, we specialise in creating amazing playground equipment using a combination of Hercules rope and galvanised steel framework.
Our engineers and manufacturers work exactly to their design briefs to ensure everything is made to the highest standards and all safety regulations are met.
The manufacturing time can vary depending on the number of playground structures, the complexity of the designs and any deadlines requested.
Playground Installation Process
The final part of the process is the installation of the equipment.
Our qualified playground installers will arrive on-site and will begin by marking out the play area to make sure everything fits perfectly before breaking ground.
All necessary excavations will then take place for both equipment and surfacing elements. Once complete, our installers will then begin assembling each of the structures. Some concreting may be required at this stage for main masts and anchor points.
The remaining concreting and surfacing elements will follow. This is when the play area really starts to take shape.
Finally, we'll hang all the rope assemblies, Bird's Nests®, scramble nets, tunnels, and bridges, and our team will then make sure everything is safely secured and check to ensure we have met any additional requirements you may have asked for.
What Happens After the Playground Equipment is Installed?
Any playground project should finish with a maintenance schedule that details the ongoing maintenance needed for the playground equipment.
We'll provide you with all the information and support you need to ensure your playground remains in tip-top condition for years to come.
Check out our blog post on Playground Inspection for more information.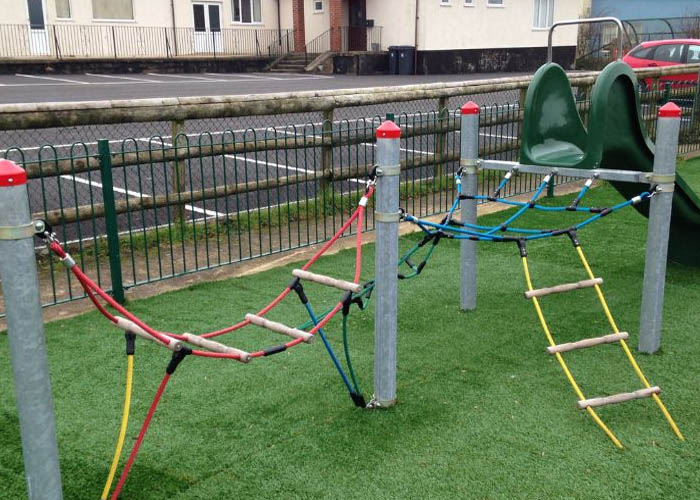 How Long Does it Take to Install Playground Equipment?
The playground installation time can vary greatly depending on a number of factors, so there's no 'set' timeline.
Some of the factors that affect installation time include:
Number of playground structures being installed

Size of playground equipment

The complexity of structures

The location, i.e. any unexpected additional work due to tight access

Bad weather

Any other additional requests
We'll never rush the process, but we'll certainly try to work within any deadlines you might have to get the playground open, like having a school playground finished and ready for term time.
Our team will communicate expected installation times and notify you should these need to change.
How Much Does Playground Design Installation Cost?
After the site survey and initial design discussions, we'll provide you with a no-obligation quote for the entire project.
This quote will include all costs related to the playground design and installation, so you'll know exactly how much it's going to cost before any of the work begins. We know funding can be difficult to come across, so we always try to work within budgets to provide the best value possible.
Available Funding for Your Playground
One of the biggest obstacles standing in the way of playground installation is the cost. To help with this, we can provide advice on a range of funding options available, such as grants and trusts, which may be able to support your project.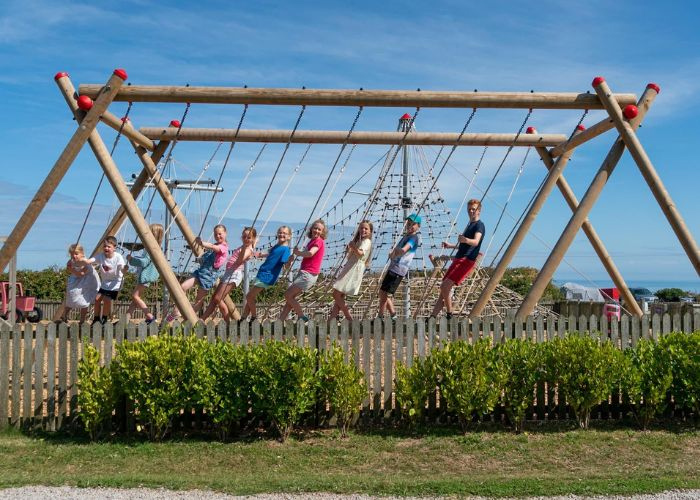 Read our Playground Funding blog post for more information or Download our Playground Funding PDF for more information.
Bring Your Play Park to Life With Huck Play Today
If you're interested in Huck Play's professional service, get in touch today! We're more than happy to answer any questions you have about our playground installation or any other parts of the process.
You can contact us by...
Phone: 01308 425 100
Email: hello@huckplay.co.uk
Contact Form: Fill out here
We can't wait to get started on your play area!
FAQs
How Much Does it Cost to Design a Playground?

Costs for playground design are included in our project quotes. Factors affecting this price include the complexity of the design, any bespoke elements and the number of playground structures.
How Much Does a Playground Cost UK?

The cost of a playground can vary hugely. It could cost as little as a few thousand pounds to tens of thousands. It depends on the size of the space, the equipment requested and location, amongst many other factors. Playground funding and grants are available to many organisations across the UK to support playground costs.
How Long Does it Take to Build a Playground?

A playground can take anywhere from a week to a month to complete, sometimes longer. The complexity of the project will be a big determining factor, including any unexpected hurdles, like weather or land issues. We'll provide you with an expected timeline with your quote.
What is a Good Size for a Playground?

The playground should be big enough to account for the expected number of children and should be able to accommodate all the playground equipment with enough surrounding space. Ideally, you should have a minimum of 4 or 5 pieces of equipment with various elements involved, like combing, swinging and sliding.