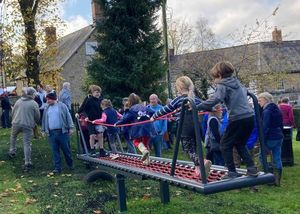 Sept. 21, 2023
What is Creative Play? The Importance of Imagination for Our Children
Creative play is a term that's used throughout the play industry and is one of the most important aspects for our children. But what is creative play, and why does it matter?
A huge part of childhood is the opportunity to use your imagination and creativity to create wonderful stories, adventures and memories – we're sure you have fond memories of playtime yourself! Creative play helps children to express themselves, explore their environment and develop problem-solving skills.
It's an important part of growing up with many benefits that can last a lifetime.
Encouraging creative and imaginative play where we can in our children is important for their development – mentally, physically and socially.
What is Creative Play?
At Huck Play, we define creative play as any type of play that allows children to use their imagination and express themselves freely through a variety of activities.
This could be anything from building a den in the garden or playing with toys. It is an open-ended, non-competitive play where children are allowed to think outside the box, create something new and explore different ideas.
One of the best ways to encourage creative play is to give children an engaging and stimulating environment, like taking them to a local playground.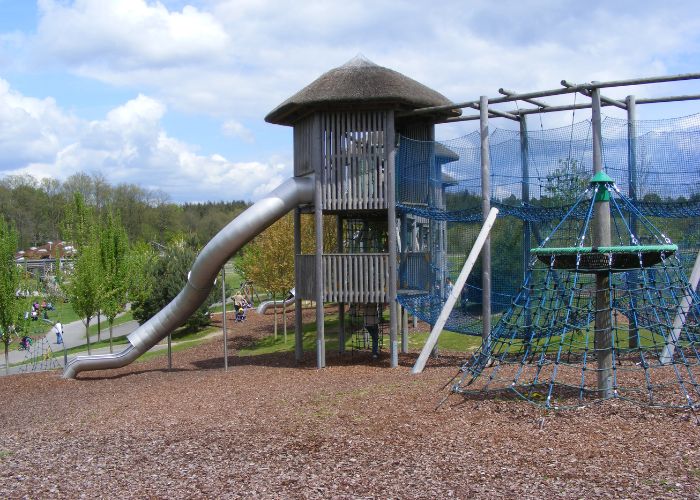 The Benefits of Creative Play for Childhood and Child Development
As people in charge of our children's development, it's important that we understand the many benefits of encouraging creative play.
Aside from the general creative expression and fun that comes with playtime, there are also some deeper, more long-term benefits.
Physical Development
One of the biggest benefits of creative play is the physical development it offers children.
The child obesity rate in the UK has been a long-fought battle, with efforts from governments and charities to encourage children away from screens and into physical activities.
"The prevalence of reception-aged children living with obesity in 2021-22 was highest in the North East (11.4%) and the West Midlands (11.3%). It was lowest in the South East (8.7%), South West (8.9%) and East of England (9.2%)." – NHS
By encouraging creative activities and play, children can become more physically active.
Mental Benefits
Many of us are aware of the mental benefits that come from spending time outside, and it's even more important for our children.
Spending time outside and engaging in a fun and supportive environment has been shown to reduce stress levels and increase happiness.
Creative play encourages children to think outside the box, come up with new ideas and practice their intellectual and cognitive skills, which is essential for cognitive development.
Social Expression
Communication skills should be an important part of our children's education, and creative play allows them to practice social skills with friends and family.
Children can engage with children they otherwise would not have met, practice their communication skills and learn how to express themselves.
It also helps children to understand boundaries in a safe environment – something that is vital for social development.
How to Promote Creative and Imaginative Play
As a caregiver, there are many ways to promote creative activities, even at home.
Here are some of our favourite ideas:
Set up an outdoor play area – This could be a simple build or something more creative!

Create an art corner with craft materials and supplies – Get creative with your child and make something together.

Read books about adventure stories, fairy tales or imaginative themes – Reading is one of the best ways to promote creativity in children.

Have a dress-up box – This is a great way to get kids dressed up and expressing themselves.

Let them explore nature – Whether it's in your garden or on a walk, let them explore and learn about the natural world around them!

Encourage pretend play with toys – This could be playing "house" or role-playing with their toys.
However, one of the most effective ways to ensure children learn creative play is through the use of playgrounds.
How Playgrounds Encourage Creative Play in Children
By offering up a place where children can essentially run riot with their imagination, playgrounds are fantastic for creative play.
They provide a space where children can be independent and explore their environment in a safe way, giving them the opportunity to practice social skills with friends and family, learn about boundaries and develop self-confidence.
Plus, with things like slides, swings and climbing towers – they can be a lot of fun, too!
Playgrounds offer up an exciting challenge for children to set themselves as they attempt to conquer the playground equipment. Building their agility, balance and coordination in the process.
Cleverly designed playground equipment will encourage children to engage in creative thinking, like working out how to get up a rope ladder or jump from one side of the structure to the other. The possibilities are endless.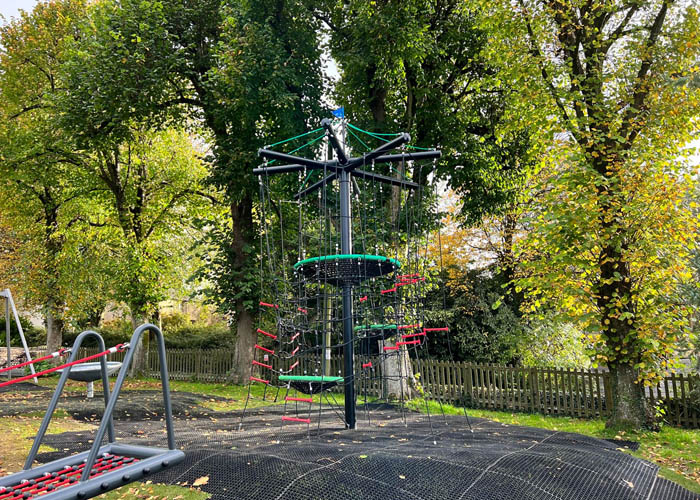 The Power of Huck Play's Creative Playgrounds
We have worked on countless playground projects, from local parks to large commercial playgrounds, all with the aim of providing a safe space for children to reap the many creative play benefits.
Our playground equipment is designed to promote independence, curiosity and exploration so children can express themselves in a fun environment, no matter their age or ability.
Creative Playground Case Study: West Bay Play Area
One example of a creative playground that has had a powerful impact is that of the West Bay Play area, located in Bridport, Dorset.
We designed a playground using the area's local history of rope-making and a shipwreck theme to create an engaging and inspiring play space for children both locally and further afield.
You can read more about the West Bay Play Area project in our case study.
Find Out More About Huck Play's Creative Playground Equipment
If you're interested in finding out more about how we can help you achieve a creative playground that's tailored to your individual needs, please get in touch with us.
We're always here to help, and we'll work with you through every stage of the process, from initial designs right through to installation, ensuring that the playground meets all relevant safety standards.
At Huck Play, our aim is always to create fun and stimulating play spaces that engage and inspire children, so we're sure you'll be delighted with the outcome.
Whether you already have the ideas or you need support right from the start, we're here to help.
Get in touch with us today, and let's talk about how we can work together to create your perfect playground.
We look forward to hearing from you!
FAQs
What is an Example of Creative Play?

Creative play can come from a whole range of sources, playgrounds being one of the most powerful. Unique pieces of playground equipment provide a starting point for children's minds to explore, problem-solve and create.
How Do You Engage in Creative Play?

Engaging in creative play involves coming up with activities that are open-ended, non-competitive and allow children to think outside the box. One of the best ways to encourage creative play is to give children an engaging and stimulating environment, like taking them to a local playground.
What is a Creative Playground?

A creative playground has been designed with the purpose of encouraging children to engage in imaginative and creative play. Playgrounds offer up an exciting challenge for children to set themselves as they attempt to conquer the playground equipment, building their agility, balance and coordination in the process.
What is the Difference Between Creative and Imaginative Play?

Creative and imaginative play are very similar and come hand-in-hand. Creative play essentially uses a child's imagination and their physical environment to explore, create and transform – whereas imaginative play is all about pretending in order to act out stories or scenarios.